John William 10 Bigelow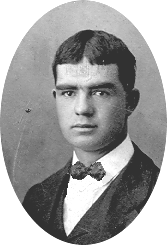 John age 16

15923.48323 John William 10 Bigelow, 3rd child and 3rd. son of George Washington 9 ( Freedom 8 , Ittia 7, Freedom 6, Isaac 5, Isaac 4, Isaac 3, Samuel 2, John 1) and Sarah E. (Miars) Bigelow, was born 15 February 1886, Paulding co, Ohio. He died 12 December 1958, at Bowling Green, VA, and is buried at the cemetery in Bowling Green. Married October 24th, 1907 Mina Viola Starks. She was the daughter of George A. & Viola R. (Wise) Starks. Born 12 May 1888, Otsego co. Bagley Twp., Gaylord, MI. She died 18 July 1961, Alpena County, Alpena, Michigan, and was buried in Bowling Green, VA.

Children of John William and Mina (Starks) Bigelow:

15923.48323.1 Unnamed Son Still born 16 Aug 1909

15923.48323.2t Katherine Elizabeth, b 03 Aug 1913 Kootenai, ID; m (1) 1934, Charles Poirier at Alpena, MI. (One child Mary Kay) Div 1937; m (2) 1938 Luellan Wayne Ackerman. Res. Ames, IA - MS - Hillsboro, GA - Bowling Green, VA. 3 children Linda, Robert, Carl. (Total of 4 children)

15923.48323.3t John William II, b 04 Nov 1915 (11 Apr 1917? Chicago, IL) Boyne City, MI; d 28 Feb 2007 Fredericksburg, VA; m 27 Nov 1937 Laura Bernice Gosselin (b 30 Oct 1917 Alpena, dau of John Baptist and Carrie May (Anderson) Gosselin); Res. Alpena, MI and Fredericksburg, VA. 3 children - Susan, John William III, and Michael. (see obit)

15923.48323.4t Donald Delmore, b 01 Sept 1921 Owosso, MI; m 29 Nov 1941 Ruth Schlichter, Alpena, MI. She b. 25 July 1922, Gladwin Co., Gladwin, MI. --Res. Pontiac, Saginaw, and Bay City MI. 3 children. (1) Donald Delmore Jr. b 28 July 1942. (2) Audry b. ??? d. ??? (3) David b. ???? d. ???? -- Saginaw, Michigan. Buried Caro Cemetery, Caro, Michigan.

15923.48323.5 Monica Viola, b 14 Dec 1922 Corunna, MI; m. 25 Dec 1941 Kenrick George Sauve, Alpena. He was b 24 Feb 1920. Res.; Alpena, MI - Nashville, TN - Alpena, MI - and Albuquerque, NM. No children. (see obits)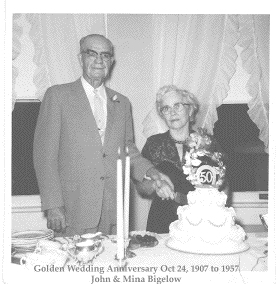 Sources:
Family Notes written and researched by Donald D. Bigelow Sr.
Don Bigelow's web page:

<>Additional Information:
At age 16 years John left home to work in "the woods." He worked in the Pigeon River area near Wolverine,
Michigan. (1904 - 1908) With in the year he was drawing full "Lumber Jack" pay. He had a way with horses so it
wasn't long before he was a "teamster" handling a team of horses, skidding and hauling logs from the cutting site to
the river to be floated down river to the Mill.
Soon tracks were laid for a small (Narrow gage) railroad system. The trains were steam engines called "Donkeys".
They were used for hauling logs to the mill. First the engines hauled small logs for fuel, but eventually they hauled the
"Big Timber" to the Mills. It wasn't long before John had the job of "firing" the engines. This experience served him
well, and provided the knowledge for his future work with "steam boilers" and railroad work .
About 1910, John and his wife Mina, along with two older brothers, Thomas and his wife Kate, and Martin and his


wife Mable and their son Raymond left Michigan and moved to the North Idaho town of Kootenai, on Lake Ponderay,
where they found work in the saw mills. Brother Thomas and his wife returned to Michigan about a year later. Brother
Martin his wife and son went on to Spokane, Washington, where they remained for rest of their lives.

<>Their Second child Katherine was born in Hope, Idaho in 1913. The following summer (1914) it was decided that Mina and Kate should return
to Michigan to "show off the baby" to the Grandparents. John took them to Sand Point to catch the train. As they said their Good-Byes, he
decided to go along with her on the trip. They never returned, leaving all their possessions in Idaho.
About 1914 - 1915 the family moved to Chicago, Ill, were he worked at a war plant,"The Rubberee". This lasted until about 1918 - 1919 when
they returned to Michigan at Boyne City when their 3rd child John William Bigelow II was born.About 1920 he found work with the Grand Trunk Railroad, in Durand, Michigan. John and the growing family settled in the near by town of Owosso, Michigan, living their until 1931. In 1925/26 he was laid off from the Railroad , but found work at "Fields" Auto Body Plant in Owosso. He worked at tending the boilers, and as a night watchman. <>Part of the Fields property was used as a Circus grounds, and John would get free passes for the family to all the shows that came to town. He also became acquainted with some of the "Show People." The Hagenbeck - Wallace and the Ringling Brother Barnum and Baily Circuses were regular events along with the "Wild West Shows" including one with "Tom Mix."
In this same time frame, John was some involved in "Boot-Legging" Nothing real serious, mostly making and selling liquor by the bottle to
individuals. At one house party some members of the Detroit "Purple Gang" came. A little later one of their good friends, who was a member
of the Police Department, dropped in for a drink. For a few moments things were tense. Someone managed to explain that the police were
good friends, and half drawn guns were holstered, and everyone proceeded to have a good time. Shortly their after he got out of the
"Boot-Legging" business.John lost his job at Fields about 1929, but found work at Robin's Furniture Company of Owosso. He worked as a "Boiler tender" and Night Watchman. (Robin's is Still in Business - 1996) Then because of the fading economy, he was laid off again. This was the beginning of the Great Depression, and he was out of work a lot of the time. In 1931, with help from his brother Tom, he got a job at the Thunder Bay Quarry Co. in Alpena, Michigan. He worked as a Fireman on a locomotive which was used to haul limestone from the quarry to the crusher. On October 31, 1931 he moved the family to Alpena, Michigan where he continued to work as a "Fireman" and then as an "Engineer" on the Railroad until 1948 when the company went out of business. His children married, he bought a 40 acre farm in Gaylord, Michigan which was previously owned by his wife's Aunt Adeline (Wise) Bingham. Both he and the wife found work at the Gaylord Tuberculosis Sanitarium. They worked until the facility closed in 1950.He and his wife then moved to Mississippi and stayed with their daughter Kay Ackerman and her husband, while he looked for work. Not finding any work in the area, they moved to Albuquerque, New Mexico staying temporarily with their daughter Monieca (Neysa) and her husband Ken until he found work tending boiler at the State Girls Correctional Home. Mina found a job as a Cook at the same facility.They later moved to Fredericksburg, Virginia near Bowling Green Virginia, where his daughter Kay and her husband Wayne lived. He found work tending boiler at Mary Washington College in Fredericksburg. At this time his son John W. Bigelow II, along with his family moved to Fredericksburg from Alpena, Michigan.Later he became ill and he and his wife moved in to an apartment in their daughters home in Bowling Green Va. He died their of Cancer on December 12th, 1958.His wife continued to live with her daughter, and her husband L. Wayne Ackerman. She lived their until her death on July 18th, 1961. She died of a heart attack, while visiting the home of her former son-in-law, Charles Poirier, at Long Lake, Alpena CO. Alpena, Michigan.Both John and Mina are buried at the cemetery in Bowling Green, approximately 2.5 miles from the home of daughter Kay Ackerman.

Residences:
1.1886 to 1891 : Paulding Co., 1.5 miles north of Antwerp, Ohio.
2.1892 to 1897: Hicksville, Ohio
3.1887 to 1908: Otsego Co., Gaylord, Michigan.
4.1908 to 1910: Boyne City Michigan
5.1911 to 1914: Kootenai, Idaho
6.1914 / 1915: Boyne City, Michigan
7.1915 to 1918: Chicago, Ill.
8.1918 / 1919: Boyne City, Michigan.
9.1920 to 1922: Owosso, Michigan
10.1922 to 1923: Corunna, Michigan.
11.1923 to 1931: Owosso, Michigan.
12.1931 to 1946: Alpena, Michigan.
13.1946 to 1948: Gaylord, Michigan.
14.1948 to 19??: Mississippi
15.19?? to 19??: Albuquerque, New Mexico.
16.19?? to 1961: Bowling Green, Virginia
---
15923.48323.3t

John William II

, b 04 Nov 1915 Boyne City, MI; d 28 Feb 2007 Fredericksburg, VA; m 27 Nov 1937 Laura Bernice Gosselin (b 30 Oct 1917 Alpena, dau of John Baptist and Carrie May (Anderson) Gosselin); Res. Alpena, MI and Fredericksburg, VA. 3 children - Susan Maxine, John William III, and Michael Bigelow.



Obituary:


John W. Bigelow
John William Bigelow, jr, 91, of Fredericksburg, died Wednesday, Feb 28, 2007 at Mary Washington Hospital. Mr. Bigelow was a World War II U.S. Army veteran and had retired as a tool and die maker for General Products. He was a member of St. Mary Catholic Church, the Knights of Columbus and the American Legion.
Survivors include his wife of 69 years Lura Bigelow; one daughter, Susan B. Miller of Fredericksburg; two sons, John W. Bigelow III of Stafford county and Michael Bigelow of Spotsylvania county; 11 grandchildren; and 14 great-grandchildren. Afuneral will be held at 1 PM Saturday, March 3, at Covenant Funeral Service, Fredericksburg, with burial to follow in Stafford Memorial Park.
---
From:

< v_samaniego@hotmail.com >


I am researching my family history. I came across you Bigelow Society web site. I saw that there are connections in Michigan. I have some Bigelow cousins on my mother's side and was curious if it was any relation. My grandmother was Adeline Gosselin the daughter of Jean Baptist Gosselin. Her sister was Laura Bernice Gosselin who was married to John Bigelow Jr. I do not know what his parents names were, but John and Laura had three children: Susan, John, and Micheal.
Any help would be appreciated.
Sincerely


Valerie Samaniego





Rod Bigelow
Box 13 Chazy Lake
Dannemora, N.Y. 12929

rodbigelow@netzero.net