Tyler 5 BIGELOW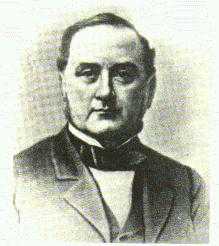 ABOVE: Tyler Bigelow of Watertown, MA.
---
1692C. Tyler 5 BIGELOW, son of David 4 ( Daniel 3, Joshua2, John1) and his second wife Deborah (HEYWOOD) BIGELOW, was born 13 August 1778 at Worcester, Worcester county, MA. He graduated from Harvard in 1801, and studied law with his cousin Timothy Bigelow at Groton. He commenced practice at Leominster, but removed to Watertown in 1804. He rose to a high rank in his profession, but in the prime of his life gave up most of his practice due to deafness. He was considered a leading citizen in Watertown. On his death he left a legacy of $10,000 to Harvard University as a fund for indigent meritorious students. He married, on 26 November 1806, his cousin Clarissa Bigelow- 16956., daughter of Col. Timothy and Anna (Andrews) Bigelow. She was born 29 December 1781 at Worcester. He died 23 May 1865 at Watertown.
Children of Tyler and Clarissa (Bigelow) Bigelow; all were born at Watertown, Middlesex co, MA:
1692C.lt Clarissa Andrews, b 1 Nov 1807; d____ ; m 26 Apr 1831 Theodore Chase; res Boston. 2 sons.
1692C.2 Rufus, b 3 June 1809; d 6 July 1832.
1692C.3t George Tyler, b 6 Oct 1810, d 12 Apr 1878 Boston, MA; m 5 Nov 1839 Anna Smith Miller; res Boston. 4 children.
1692C.4 Charles Henry, b 6 Sep 1812; d 13 Sep 1813 Watertown.
1692C.5t Charles Henry, b 13 July 1814; d 15 Apr 1862 New Bedford, MA; m Harriet Briggs; no issue.

1692C.6 Harriet, b 26 Feb 1816; died in Cuba; unmarried.
1692C.7 Francis Whitney, b 04 June 1824; d 11 July 1853, aged 29 San Francisco, CA; unmarried. (see below)
1692C.8 Edward Irving, b 01 June 1827; d 09 April 1854, aged 26, Cairo, Egypt; unmarried; (see below)
Sources:
Bigelow Family Genealogy Volume. I page.174;
Howe, Bigelow Family of America; page 146;
Watertown records;
newspaper obits.
New Note:
Janice Farnsworth has provided The First Parish of Watertown, MA by Arthur Buckminster Fuller; Tyler was an early parishioner.
Note:
Subject: Hon. Tyler Bigelow
Date: Sun, 13 Feb 2000 10:16:49 -0500
From: Rich Eastman & Pam Parker < portunus@midcoast.com

Hi, Rod! Saw your Bigelow family page today and was quite excited. My wife descends through John-Joshua-Daniel-David-Tyler-George Tyler-Clara Dabney-Caroline Parker-Augustin Parker Jr. Her mother has an original oil painting of Hon. Tyler at about age 70 hanging in her living room. Many things were passed down in the family, some we haven't identified yet. We're trying to trace the source of a block-front desk made by Benjamin Frothingham about 1780 that was handed down in the family. Have you done any research into the wills of Tyler Bigelow or his son George? We thought
a will might indicate where this desk came from and suspect it to be a Bigelow piece. Pam's mother also has a portrait of Charles Miller Esq., Anna Smith Miller's grandfather. He was a merchant in Boston. Please let me know if you have anything further on this family. Thanks so much,
Rich Eastman & Pam Parker

From: NECROLOGY OF THE ALUMNI OF HARVARD COLLEGE, 1851-52 TO 1862-63.
Transcribed by: Janice Farnsworth Farns10th@aol.com

1843. -
FRANCIS WHITNEY BIGELOW
died in San Francisco, 11 July 1853, aged 29. He was son of Tyler Bigelow of
Watertown (H.C. 1801), where he was born 04 June 1824. He was a lawyer by profession.
1848. -
EDWARD IRVING BIGELOW
died in Cairo, Egypt, 09 April 1854, aged 26. He was son of Tyler Bigelow, of Watertown (H.C. 1801), where he was born 01 June 1827. He was a lawyer by profession.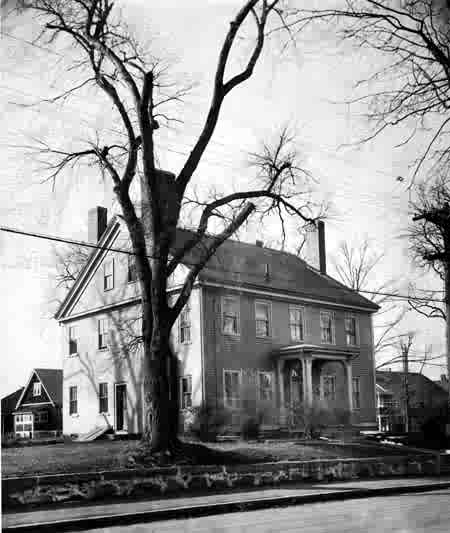 Tyler Bigelow House, 77 Riverside Street, Watertown. Home of Chief Justice of Massachusetts Supreme Court.
Subject: Bigelow house
Date: Mon, 11 Aug 2008 18:50:06 -0700 (PDT)
From:
Sam Quinn < bogamil9@yahoo.com >
My name is Sam Quinn living in Dedham, MA. Quite to my surprise I stumbled upon your web site and saw the home my mother was born and brought up in at 77 Riverside St ,Watertown, MA. Her name was Elizebeth Walsh
and she lived there with her sister, brother, mother, and an uncle named Henry Rattigan. Her father died at an early age when she was an infant, but I would assume the home was purchased by her father, James Walsh perhaps sometime in the late 1920's or early 1930's. as a young child I can remember many visits to that old house and was facinated by the old soapstone sink and brass fixtures. For many years afterwards I had wondered about the history of that
home and I do recall my mother telling me something about it being built in the Revolutionary War period by some famous citizen of Watertown. I am quite glad to know the actual history of this house thanks to your website. Out of curiosity I recently visited this house to see how accurate my childhood memories were of it. It was exactly as I had remembered it, so I want you to know that it is still standing and as diginified and stately a home as it was in the day of you ancestor and in the days my mother and her family lived in it.
yours truly, Sam Quinn 68 Mt. Vernon St; Dedham, MA 02026
see link: http://www.ci.watertown.ma.us/index.asp?NID=52
Tyler Bigelow House
– the brick-ended Tyler Bigelow House located at 77 Riverside Street was built around 1800. It was the birthplace of George Tyler Bigelow (1810 – 1878) who became Chief Justice of Massachusetts Supreme Court in 1860. This home is presently a family dwelling.
---
Rod Bigelow
Box 13 Chazy Lake
Dannemora, N.Y. 12929

rodbigelow@netzero.net

BACK TO THE BIGELOW SOCIETY PAGE

BACK TO BIGELOW HOME PAGE