Roger 5 BIGELOW
---
16822. Roger 5 BIGELOW, son of Uriah 4 ( Joseph 3, Joshua2, John1) and Abigail (PIERCE) BIGELOW, was born ___ 1755 in Sudbury, MA. Roger and his sister Delight twins??, were appointed a Guardian in 1769 (see below)) He served in the Revolutionary War. He was married 12 November 1776 at Fitchburg to Elizabeth Russell. They settled a number of years at Fitchburg, then moved to Harvard. There Elizabeth died 1 Nov 1802 age 49. Roger died 13 June 1838, also at Harvard.
1790 census: MA-Worcester-Harvard-Roger Bigelow: 1-4-3-0-0..
Mass Sold & Sail of Rev War, Vol II:
Bigalow, Roger. Private, Capt. Nathaniel Carter's co., Col. Job Cushing's (Worcester Co.) regt.; enlisted Sept. 7, 1777; discharged Nov.29, 1777; service, 3 mos. 4 days. Roll dated Leominster.
Biglow, Roger, Fitchburg. Private, Capt. Ebenezer Bridges's co., Col. John Whitcomb's regt., which marched on the alarm of April 19, 1775, to Cambridge; returned April 25, 1775; service, 6 days; also, Capt. John Fuller's co., Col. Asa
Whitcomb's regt; receipts for wages for Aug. and Sept., 1775, dated Prospect Hill; also, company return dated Oct.
6, 1775; also, receipt for bounty coat or its equivalent in money, dated Charlestown, Sept.14, 1775.
Biglo, Roger, Fitchberg. Private, Capt. John Fuller's co., Col. Asa Whitcomb's regt; muster roll dated Aug. 1, 1775; enlisted April 25, 1775; service, 3 mos. 1/2 day.
Children of Roger and Elizabeth (Russell) Bigelow:

16822.1 Daniel, b 24 Apr 1777 Fitchburg; d 23 Apr 1802 Harvard. (see below)
16822.2t Abijah, b 08 Aug 1779 Fitchburg; d 29 Apr 1863 Charlestown, MA; m 12 Dec 1805 Sarah Haskell. 2 children.
16822.3t Betsy, b 21 Mar 1782 Fitchburg; d _____ ; m 13 Oct 1803 John Trufant. 4 children.
16822.4t Lucy, b 27 Oct 1783 Fitchburg; d 23 Aug 1823; m 06 Sept 1801 Stephen Lawrence. 10 children.
16822.5t Jason, b 11 Nov 1786 Harvard, MA; d ____ ; m 23 June 1813 Sarah Walker. 1 child.
16822.6t Joseph, b 27 Mar 1790 Harvard; d 09 Apr 1846 Richmond, VA; m 04 Sept 1813 Agnes Nesbit. 5 children.
16822.7t Thomas, b 09 Apr 1793 Harvard; d ____ ; m 30 Jan 1817 Sarah Atherton Dudley; res Harvard. 5 children.
16822.8 Emory, b 14 Sept 1795 Harvard; d _____ 1824 New Orleans, LA.
Sources:
Bigelow Family Genealogy Volume. I; page.170;
Howe, Bigelow Family of America; page.143;
American Antiquarian Society,
Index of Deaths as Recorded in the Massachusetts Centinel and Columbian Centinel from 1784-l840.
Cemetery pictures from Guy Bigelow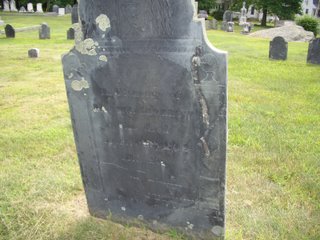 Center Cemetery - Harvard, MA (July2006)
Daniel Bigelow - d. Apr. 28, 1802 (Age 25)
---
Note 2012: From: "Virginia Myers" < v.myers5506@att.net >

I thought you might like to know what I have found about a Delight Bigelow. Still not sure she is the Delight I am looking for but it is a potential fit.
The records found show that Uriah died about 1760. This guardianship action was not taken until some years later and they were apparently teen agers who themselves asked for the action to appoint a guardian. I also found an apparent record of their widowed mother - she had married a man named Joseph Kneeland and the two of them and two of her younger Bigelow children were "warned out" of Winchendon MA. One of the children she had with J Kneeland was apparently "bound out" at the time of the warning action. Seems like they were maybe considered vagrants and that might be why Roger and Delight wanted a legal separation from them.

So someone named
Uriah Bigelow
had a daughter named
Delight
who was apparently the same age as a brother named Roger. I have found stuff about a Uriah having a son named Roger in family trees on ancestry.com but I only use these as starting points but none of those trees mention a daughter named
Delight
. Strange that she is so elusive.
Rod: Documents provided by Virginia (that are now in Bigelow Society Library) state:
"Judge John Chandler, nominates and appoints Ebenezer Bridger of Fitchburg, MA, Guardian of Roger and Delight (both fifteenin age) son and dau of Uriah Bigelow, late of Stow and county of Middlesex, MA dated 18 April 1769"
Also documents show a bond of 100 pounds apiece was posted by Isaac Gibson, surety letter of Obligation.
---
Rod Bigelow
Box 13 Chazy Lake
Dannemora, N.Y. 12929

rodbigelow@netzero.net

BACK TO THE BIGELOW SOCIETY PAGE

BACK TO BIGELOW HOME PAGE