Lucy 7 BIGELOW
---
15349.46 Lucy 7 BIGELOW, dau of Thomas 6 ( Thomas 5 ( Jedediah 4, Samuel 3, Samuel 2, John 1) and Jerusha (PUTNAM) BIGELOW, was born 28 April 1817 at Whitingham, Windham, VT. On 08 February 1846 she married James Thompson. We have no data on him. This family lived at Chester, PA; Chautauqua county, NY; Rollingstone, MN where both died - we have her death date only: 29 December, 1903.

Children of James and Lucy (Bigelow) Thompson:

15349.461 Sarah J., b 20 May 1847, W. Chester, Chester, PA; d Owatonna, MN; m 10 March 1863 Nicholas Stoos; 8 children.

15349.462 Annette, b 24 Dec 1849 Chautauqua co., NY; d 22 Dec 1910 IA; m 24 Mar 1869 Anson G. Leet; 3 children.

15349.463 Minnie S., b 13 Aug 1856 Rollingstone, MN; d 03 April 1896 Walcott, MN; m 12 April 1876 Eugene B. Wemple; 5 children.

Sources:
Bigelow Society,The Bigelow Family Genealogy, Vol II, pg 100;
Bigelow Society,The Bigelow Family Genealogy, Vol I;
Howe, Bigelow Family of America;
records of Bigelow Society historian/genealogist.
Note:
Subject: LUCY BIGLOW, b 1817, daughter of Thomas & Jerusha..
Date: Thu, 22 Nov 2001 00:05:00 EST
From: TracisSavings@aol.com
Not sure if ya'll are interested in this but I found it on ebay... If you know a dec. please pass it along to them :)
This is the note I got from the seller after I contacted her to see if she knew any family background on it (I thought perhaps it was the
Lucy Biglow that was to be married to Brigham Young....but after searching your site - nice job Rod and all - I found it to be the Lucy
Biglow that was married to James Thompson and the daughter of Thomas and Jerusha Putnam Biglow listed on
http://bigelow.simplenet.com/rod/luc74946.htm)
You can contact the seller if you have questions about the piece. I hope that someone will be excited about this !!
Warm Regards,
Traci Parsons-Holder
From: sandymac@mnic.net (MacIntosh)
I called the people from whom I purchased the sampler, him and his wife are actually friends of mine. It was her mother's estate they were selling. Apparently this sampler came from her Dad's side of the family and they know very little about them. I purchased this in a town called Medford MN. Its about 6 miles north of where I live, Owatonna Mn. Its in the S.E. corner of Minnesota. I guess it is possible to be "the" Lucy Biglow, but I think it is a long shot. I really have no way of checking it out. I appreciate you taking the time to email me though. Sincerely, Sandy MacIntosh
This sampler came out of an estate. It shows its age. It measures about 10" x 12". The bottom part has moth damage. There also are some other small holes that look like moth damage. The sampler is made up of the ABC's and 1,2,3's. It was made by Lucy Biglow, age 12. If you have any questions before you bid, please email me. I will tell you as honestly as I know how about this piece. I am not an expert at these.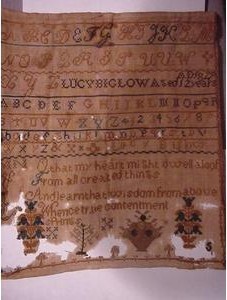 ---
Modified - 11/22/2001
(c) Copyright 2001 Bigelow Society, Inc. All rights reserved.
Rod Bigelow - Director
bigelow@slic.com
---
Rod Bigelow (Roger Jon12 BIGELOW)
8 Prospect Circle
Massena, N.Y. 13662

bigelow@slic.com Rod Bigelow at SLIC

BACK TO THE BIGELOW SOCIETY PAGE

BACK TO BIGELOW HOME PAGE