Daniel Folger 7 BIGELOW page 3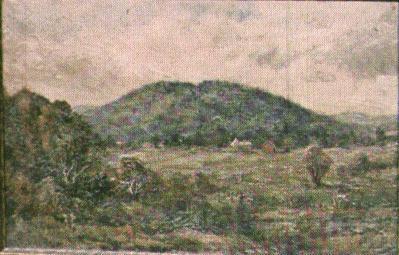 The painting above is Huckleberry Mountain, by Daniel Folger Bigelow.
see Page 3a for more paintings of Daniel and new info.
Also see Page 2 for more information on Daniel Folger 7 Bigelow.
Also see Page 4 for 1997 information from Chicago Art Institute.
Also see Page 5 for new article (1998) on Daniel Folger Bigelow.
Also see Page 1 on Daniel Folger 7 Bigelow.
---
The following is an article from Adirondack Life magazine, Winter 1971 by Peggy O'Brien:

A young boy sat on the stone wall at the corner of the boundary line of his father's farm in Peru, New York, not far from Plattsburgh. Knees drawn up, chin resting on them, he looked across open fields to Lake Champlain and the outline of Mount Mansfield across the lake in Vermont. He'd been to this spot many times when his chores were done. He'd seen Mount Mansfield in varying lights and many weathers. He had a burning desire to reproduce that familiar scene and capture the fleeting moment of a special light, cloud effect, or misty morning.
Daniel Folger Bigelow went on to achieve his wish, first with pencil and later with colors. He became a major recorder of Adirondack scenes and a nationally-known artist. Born in Peru of Quaker parents in 1823, the third in a family of five children, distantly related to Benjamin Franklin through his mother, son of a hero of the War of 1812, Bigelow grew up on the farm where he was born. An active boy, he did his share of the chores. However, he found time to roam the countryside and collect impressions.
Bigelow suffered the fate of many artists. His painting brought indications from his family that he was unrealistic in his choice of a career. They tried to dissuade him. Clippings of interviews in later years have mellowed the story and refer to the proud father who arranged for his first lesson with Ashel Powers, an itinerant portrait painter and cousin of the then famous sculptor Hiram Powers. Ten years older than his student, Powers is given credit by Bigelow for his "delicacy of coloring and treatment."
Needing money to continue his studies and support himself while he painted in Peru, Bigelow worked in a marble yard where he earned a reputation for skill and design. He was in demand to "execute many of the best pieces of work which were being turned out in that section of the country," according to a current publication. However, it was merely a job for him, and he longed to spend all his waking hours at his easel. When he had worked long enough to have nearly $100, free and clear, bigelow put down his chisel, take up his paints, and continue his art lessons. When the money was gone, back to the marble yard he'd go.
In an interview some years later, he reported that he also turned out portraits and claimed them to be the worst portraits he ever saw. Marble cutting and portrait painting were a means to an end. His eye was still on the beauty of the landscape, and many times he returned to his favorite spots to gather them into his memory for the time when he could paint as he wanted.
When he was twenty, he took his first trip to new York City.. to look at paintings. Having had little opportunity to see more than an occasional painting or a few prints, this trip overwhelmed him. He returned bewildered and overcome by the numbers, the beauty, and the skilled technique of the paintings he saw. He knew a long road of hard work and study lay ahead, but he was not deterred.
When he was thirty-five, Daniel Bigelow felt he was ready to turn from his extra jobs and give all his attention to painting. In 1858 he pulled up stakes and went to Chicago where he was to continue painting for more than fifty years. Acquiring a studio in the Crosby Opera House, he joined a group headed by G.A.P. Healy. Nine years later in 1867 (World Book Encyclopedia gives the date as 1866), this group founded The Academy of Design, which in 1882 became The Art Institute of Chicago. Having established himself, bigelow went back to Peru in 1865. On November 1, in nearby Schuyler Falls, he married Charlotte Marie Barnes, twenty-one years younger than he, and introduced her to Chicago and his new life there.
Two and a half years later, their first son, Folger Allen Bigelow, was born. Florence Edgerton Bigelow arrived in 1871, and a second son, Louis Barnes Bigelow, joined them in 1884, when his father was 61. Folger Bigelow, already a promising young artist, was accidentally killed when he was 23 by a friend who was cleaning a gun. Florence also turned to art and taught in the Hyde Park School in Chicago for more than 40 years. Louis lived (1970) in Memphis, Tennessee. Through these years while his family was growing, Bigelow was developing his style, primarily in oils but also in watercolors. One writer of the period said that "his great work is in oil, but his watercolors are exceedingly beautiful." By the early 1870's a reporter from his home area claimed he was "outdistancing many of his more favored competitors, till today he stands in the front rank, the generally acknowledged authority in that city of landscape painting."
Throughout his career Bigelow exhibited in galleries all over the United States. His paintings were shown at the National Academy, The World's Columbian Exposition, and of course, The Art Institute in Chicago. His Adirondack scenes are consistently listed in the catalogues of these exhibits. Today(1970) scattered through the Peru and Plattsburgh area are paintings reflecting his moutain rambles over many years. Whiteface Mountain, from the northeast, was a favorite view, and he had a scetchbook almost filled with that one mountain subject. Various scenes with nearby Lake Champlain in the foreground or middle ground were often portrayed. His first love, the familiar scene across the lake to Mt. Mansfield and Camel's Hump is featured in many paintings. It was not unusual for an artist to repeat a subject many times or to copy a painting, if requested. Selling paintings and teaching were Bigelow's business, and after his early struggles he lived well on his work and feared no longer the call to the marble quarry.
Many Chicago citizens in the flat country of Illinois had been born, or had strong ties, in the rolling hills of New England and the changing terrain of New York State. In a scrapbook of Bigelow's career, put together by his daughter, there are many indications of commissions to paint "the old homestead" or the remembered mountains of New England and New York for those Chicago citizens. His granddaughter writes that he tramped around the mountains making sketches during the summer and then, returning to his Chicago studio, converted them into paintings. Bigelow loved the country where he lived as a boy and returned to it to visit, to sketch, and at times, with students, to teach.
From the beginning of his career in Chicago, Bigelow taught classes in and around the city. He took groups on summer sketching trips to Lake Michigan, Wisconsin, Vermont, New Hampshire, Maine, and Massachusetts and to his native New York. Believing students should study and work in America, he told his pupils that American scenes were "proper and fruitful" to develop native talent and urged them not to go abroad for study.
America was always his subject and often his America reflected northern New York scenes. An 1872 article speaks of the pride with which "he points to these views of his old home in the east, reproduced with marvelous truthfulness by the magic brush of a true artist." Another article in 1870 (written when he was 47 years old, 40 years before his death) says that from earliest childhood he had "a passionate love for the beauties of nature, he early became fascinated with the scenery of this romantic and picturesque region, a feeling that has grown upon him with years, and led him to spend many summers of his later life in making of these scenes a close and thorough study. His landscape paintings are nearly all from scetches taken during these seasons of seclusion among the Adirondack Mountains and about Lake Champlain."
Bigelow was described in his later years as one of the old timers by a critic who wrote that "his pictures are always quiet in tone and harmonious in color, and they have, too, some atmospheric qualities. The subjects which appeal to him most frequently are stretches of hilly country with plenty of trees and a glimpse of water in the distance, deep, cool, shadowy forest dells, little waterfalls amidst trees or the grassy sloping shores of small lakes."
His paintings were mostly realistic scenes done in good weather with pleasant effects. After viewing some impressionist paintings at the Art Palace in Chicago, Bigelow added a bit more vivid color and introduced some new touches to his familiar work. Though in his eighties, he still was receptive, and a critic remarked on his Carot-like treatment of trees. Daniel Bigelow continued to paint until shortly before his death in Chicago in July, 1910, at the age of 87. A few months before, the Chicago Art Institute honored him with a parchment in recognition of long and faithful service to art.
Alonzo Jones, in 1870, wrote of Bigelow what was echoed in varying degrees in newspaper articles over the years: "An artist's personal characteristics are sure to show themselves in his works. Mr. Bigelow is strictly honest, conscientious...a good hearted man, a good neighbor and a genial friend; exceedingly modest...retiring, and 'unpretending'; always speaking well of his brother artists." The little boy from Peru with his chin on his knees looking at Mount Mansfield had come a long way.
see Page 4 for 1997 information from Chicago Art Institute.

---
Modified - 11/02/2005
(c) Copyright 2005 Bigelow Society, Inc. All rights reserved.
Rod Bigelow - Director
rodbigelow@netzero.net
---
Rod Bigelow (Roger Jon12 BIGELOW)
Box 13 Chazy Lake
Dannemora, N.Y. 12929

rodbigelow@netzero.net