The Florida 2004 Page



This page will start with our trip down to Florida in early January to escape the cold.
We arrived at Matt's place in New Bern, NC on Thursday Jan 8th, after a day and night in Richmond at Andrea and Mike's. We appeared to have contracted the flu at their place and just getting over it now. We left CT on Wed and arrived at Winchester Wed night. It has been cold since we left CT, but not as cold as you guys. We didn't get sick until Fri, but very sick. We went to Atlantic Beach , NC today, and enjoyed being outside even though cold.
We left Matt's place Monday Morning, the 12th. We drove on 17 to Myrtle Beach and had lunch at Dick's Last
Resort. This is a BBQ place recommended by a good friend in Massena. It was quite good, especially the atmosphere. We stopped at a Plantation before Charleston that I had stopped at before, and took some more pictures.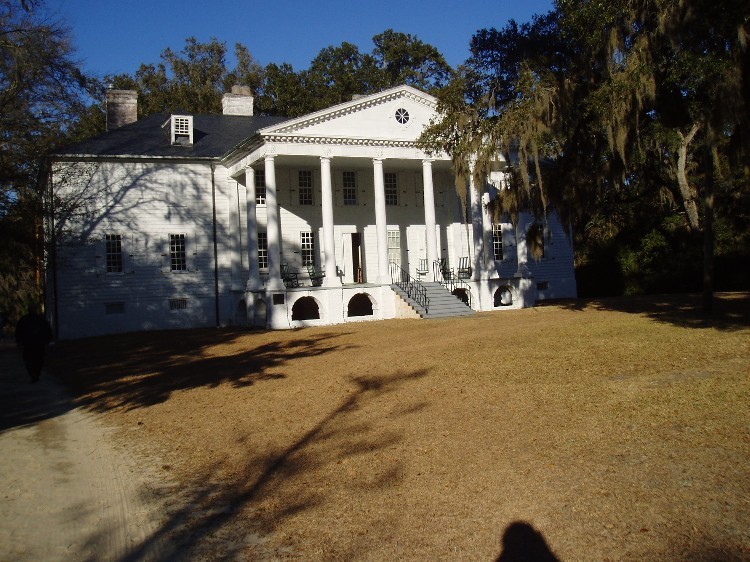 This the Plantation House near the Santee River

We didn't stop in Charleston because it was rush hour and also drove right past Savannah. We'll try to stop on the way back when the weather is warmer. We had a light dinner at Brunswick, GA (Cracker Barrel) We stayed near St. Mary's, GA at the Best Western?
The next morning Tue the 13th, we drove to Fernandina and stopped at Fort Clinch State Park. We have been there a few times and it is a nice little place for shore walking, fishing pier, hiking and biking. The roads and paths are beautiful with spanish moss on old overhanging tree limbs. We heard that right whales were spotted off Jacksonville Beach, and saw pictures on TV. We looked for them from this pier and others, but no luck.
We drove along A1A from Jacksonville Beach to St. Augustine. We stopped at the Beach at Pointe Vedre and looked for whales. We did see dolphins however. Stopped at St. Augustine and Chris went shopping, big mistake. Continued on A1A and ran into construction at Flagler Beach; then on to Daytona Beach where we stopped for dinner at this European Cafe we like. We both had snitzel, which were excellent. We stayed overnight at Daytona, near the race track. On the 14th we drove to Orlando and stayed there for 2 days at Disney World. We stayed at Hampton Inn for only $49. a night, and it was very nice. We went to Epcot on the 14th and Magic Kingdom on the 15th. The lines were short this time of year, so we were able to go to everything several times if we wanted. Chris still would not go on Splash Mt. We left Orlando the morning of the 16th and took the turnpike south and then went west to Bel Glade and took 27/997 to Homestead, where we ate at my favorite BBQ (Shivers).We arrived at Key Largo on 01/16 and enjoyed the sunset at the Howard Johnson's beach, where we stayed. Moved into our house on the 17th. I have been snorkling off a boat and scuba. Also some nice paddling along the mangrove shorelines in my kayak, and some nice rides on my bicycle to strengthen my knees.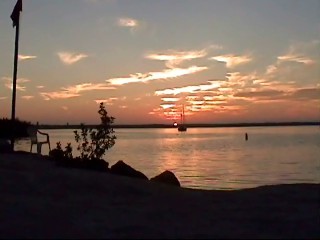 Sunset in Key Largo 01/16/04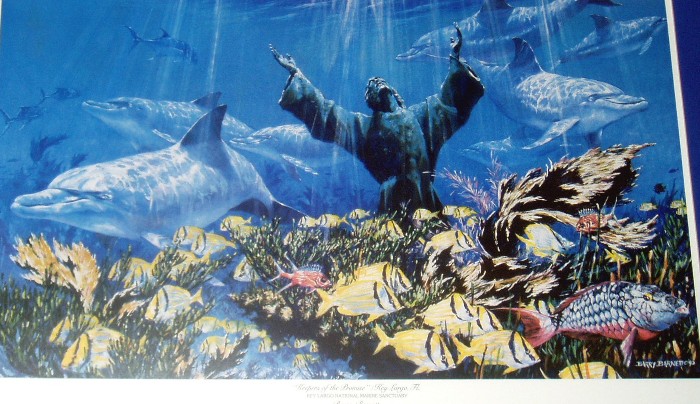 This is a stylized painting of the Dive site; "Christ of the Deep" This is hanging in the Church we go to in Key Largo.

Diving in The Florida Keys see fish1.htm ...............................ROD 03/15/2004

---
Rod Bigelow
P.O. Box 13 Chazy Lake
Dannemora, N.Y. 12929

< rodbigelow@netzero.net >