Florence Louise 8 BIGELOW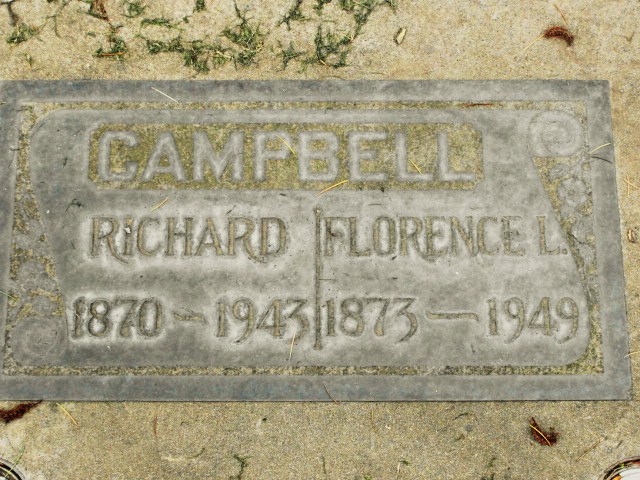 http://www.findagrave.com/cgi-bin/fg.cgi?page=pv&GRid=67413104&PIpi=40140720
---

16B2A.261 Florence Louise 8 BIGELOW, dau of Marcus James 7 ( Thomas 6 , Gale 5 ( Jabez 4 , Gershom 3, Joshua2, John1) and Clara (PARLIN) BIGELOW, was born at Butte, Sutter co, CA on 17 November 1873. Her marriage was on 01 August 1900 to Richard Campbell. Richard was born in 1870 and died 15 April 1943 (Gridley Cemetery)
CAMPBELL, Florence Louise Bigelow (1873-1949) Painter. Born in North Butte (now Pennington), Sutter co, California on 17 November 1873. Florence studied at the Mark Hopkins Art Institute in San Francisco in the 1890s. Flower paintings were her specialty. After her marriage to Richard Campbell on 01 August 1900, she stopped painting to raise a family. She died in Butte County, CA on Sept. 25, 1949." [Excerpt from draft of 2002 third edition of "Artists in California 1786-1940," by Edan Milton Hughes. This is a two volume set of over 1,200 pages in which an entry and brief bio has appeared on Florence.] http://www.artbusiness.com/hughes203.html]
The San Francisco School of Design was created in 1874. In the mid-1890s it moved to the Mark Hopkins mansion and was called the Mark Hopkins Art Institute until it burned in 1906 (SF Earthquake?). Then it was named California School of Fine Arts until the 1960's when it became the San Francisco Art Institute as it exists today.
After studying painting, she wanted to become a teacher by attending Chico Normal Teachers College (now California University at Chico). However, her parents could not afford to send her. To help her education several years before they married, Dick Campbell secretly borrowed $2000 from an Irishman, Trotter Holliday, who lived on the Harkey Ranch. Trotter Holliday was a heavy drinker who accidentally caused a fire which burned up his house, him and his niece, Mary Turle, who was packed and ready to go to Ireland. In settling Trotter's estate, his heirs found the $2000 loan to Dick and required his father to pay it off immediately. Dick had planned to pay it over time and had to work it out on the ranch.
Before they married, Florence did teach school in Neroly, Contra Costa Co. where her parents had moved. She had her father's traits in being slow, patient, deliberate, and like her father, enjoyed playing cards socially with friends. She maintained an immaculate, well furnished home and was always well dressed. She gained her way by quiet persistence. Dick was a good provider and husband to her. She enjoyed the newest labor saving home appliances as they were invented.
She had a high-class appearance and personality; it was in her genes. Genealogy research reveals that from humble and remote Pennington, Sutter Co., her Bigelow ancestors do descend from the earliest Massachusetts Pilgrims and back to European kings and queens, which was not known during her life. She is the oldest child of Marcus James and Clara Isabelle (Parlin) Bigelow, both of whose parents came to CA during the gold rush. (http://bigelowsociety.com/rod7/mar72a26.htm)
She was a devout Presbyterian who regularly attended alone, even when she had to crank the car engine by hand to start it. That was hard and risky work before electric starters. She lived in her 373 Kentucky St., Gridley home for six years after Dick died. Her son, R. Wallace, lived with her when he returned from serving in Europe in the Army during WWII. Larry also stayed with them both for two summers while working on the ranch with his father.
Florence and several school classmates remained close friends. They liked to play cards and go for a drive. On her last day, she went on a drive to Portola in her new Oldsmobile sedan with several classmates and Tom Channon. "Dad" Channon was a 99-year-old local legend. Gridley planned a big celebration for his 100th birthday in a few days. The driver of her car was George ?, an old classmate visiting from New Jersey, who had not driven for many years in New Jersey, but still had NJ license to drive. On their last trip up the Feather River Canyon on winding highway 70, he was driving on the trip back after dark. He said an oncoming car forced him off the steep canyon road. The evidence at the scene did not support his story. The lights of an oncoming car around a curve on the inside lane may have distracted his view of the curving road. Instead of turning left, the car drove straight off the curving road and over the steep side of a deep ravine. The car amazingly struggled at high speed, while staying near the steep top rim of an inside canyon curve for about 120 feet trying to get back up to the road with the rear driving wheels slipping lower than the front wheels, as it defied gravity in not immediately rolling over tumbling down the steep ravine. Then, it stopped just short of the best spot to get back up on the road. The right side doors opened, Florence and Tom Channon fell out, as the car slid far down the steep canyon over them causing their deaths. The driver and two other passengers held on inside the car and escaped injury. Cars had no seat belts in 1949, and inside door handles could be pushed down to open unintentionally.
There were early warnings of George's serious driving limitations, while Florence enjoyed his company. He ripped out one whole side of her garage while backing out. Clare had always filled her car with gas. Neither George nor Florence knew the location of the gas filler cap to add gasoline to her car. George insisted that gas should go in the radiator cap in front of the engine, even after Larry showed him the gas filler cap under a cover in the rear fender. He argued that the radiator cap was next to the engine that used the gas, that gas should not go into an opening in the rear of the car so far away from the engine. To prevent gas going into the radiator, Larry (high school freshman, age 15) protested so strongly that they reluctantly decided to wait for Clare's return to fill the car with gas, rather than let Larry put it in the rear tank opening. In New Jersey, driver's licenses were automatically renewed without testing for safe driving; and he had not driven for many years, especially at night on curving mountain roads. Florence was in very good health at age 76; as well as Tom Channon at 99.
"Services held Wednesday afternoon in the Block Funeral Home for Mrs. Florence Louise Campbell were largely attended and there were many beautiful floral tributes. Rev. T.M. Jolley of the Marysville Presbyterian Church spoke. Burial rites of the Order of Eastern Star were carried out under the direction of Mrs. Janie Price, worthy matron. Other members of the Vernon Chapter taking part were Donald Hills, patron; Elsie Clegg, chaplain; Margaret King, Lila Herrington, Vera Higgins, Mary Spellman, Colleen Crawford, star points. Mrs. W.H. Block sang, "The End of a Perfect Life." Florence Campbell born 76 years ago in Pennington, was also a member of a pioneer Sutter County family. She is survived by two sons, Richard Wallace and Clare Bigelow, grandchildren Larry Campbell and Clarice Deal, and a sister Theodosia Bigelow Young (sic, should be "Biglow" not Young; "Aunt Ted" Bigelow married a Biglow) all of Gridley."


Florence died at Gridley, Butte, CA on 25 September 1949.



Children of Richard and Florence (Bigelow) Campbell:

16B2A.2611

Richard Wallace Campbell

, b 01 June 1907 Gridley, Butte, CA; d 24 Jan 1990; m (1) 12 June 1932 Bessie Luella Lueth; m (2) _ Sept 1948 Rowena ? Lucas (previously married with 10 children); m (3) 17 Sept 1949 Theresa Jean "Gena" Facciano 17 Sept 1949;

16B2A.2612

Clare Bigelow Campbell

, (male) b 12 Dec 1914 Gridley, Butte, CA;

d 16 Feb 2012 Gridley, Butte, CA

; m 03 Aug 1941 Florence "Pat" Hubbel; (see below)


Sources:
Bigelow Family Genealogy Volume. II; page 519;
Howe, Bigelow Family of America; page


FORGE: The Bigelow Society Quarterly; Vol. 9, No. 2 April, 1980
FORGE: The Bigelow Society Quarterly; Vol. 28 No.3; July 1999.
Thompson and West, History of Sutter co, CA;
histories of Butte and Siskiyou counties, CA;
census records CA;
descendants family records;
family Bibles;
2012 correspondence with descendant:
son of Richard Wallace Campbell: Larry Campbell < llcampbell23@sbcglobal.net >
Eulogy by Larry Cambell


December 12, 1914 ~ February 16, 2012
Clare was the last of the nine, fourth-generation-Californian Bigelow First Cousins (in order of birth):
Ralph Carl Bigelow, Jr.
(1903-1966);
Marcus Parlin Bigelow
(1904-1965);
John Orvis Biglow
(1906-1926);
Richard Wallace Campbell, Sr.
(1907-1990);
Eugene Allen Biglow
(1908-1999);
Martha Helen Bigelow (Wilson)
(1909-2009);
Clare Bigelow Campbell
(1914-2012);
Bertha Lou Bigelow (Dickinson)
(1917-2000);
Richard J. Bigelow
(1934-1962)
A Funeral Service will be held Thursday, February 23, 2012 at 2:00 P.M. at the North Butte Lodge No 230 F & AM for Clare B. Campbell, 97 of Gridley, California. He passed away Thursday, February 16, 2012 at Biggs-Gridley Memorial Hospital.
Clare was a life long resident of Gridley born to early Pioneer settlers. His family is one of seventeen families who have kept the family property for over 150 years in the State. He has farmed locally for over 70 years. He was a member of the First Presbyterian Church of Gridley, a member of the North Butte Masonic Lodge No 230 F & AM of Gridley, the Scottish Rite and Shriners, both in Sacramento.
He has served as Grand Lector in San Francisco and Inspector 222 Masonic District. He was the recipient of the 75 year pin. He also served on the Manzanita School Board and the Drainage District No. 1 Board.
He was preceded in death by his wife, Pat Campbell; one daughter, Patsy Deal; one granddaughter, Rose Marie Malone, one grandson, Dallas Deal and one brother, Wallace Campbell.
Clare is survived by four grandchildren: Clarence Deal of Port Townsend, WA, Darlene (Ryan) Marr of Elk Grove, CA, Monte (Julie) Deal of Gridley, CA and Quintin Deal of Gridley, CA; and a grandson in-law, Fred Malone of Cochise, AZ. He is also survived by eleven great-grandchildren and nine great- great-grandchildren
A Visitation will be held Wednesday, February 22, 2012 from 5:00 to 8:00 P.M. at Gridley-Block Funeral Chapel.
The North Butte Masonic Lodge No 230 F & AM will officiate at the services.
Interment will be held at Gridley-Biggs Cemetery.
Contributions to the North Butte Masonic Lodge No 230 F & AM are suggested by the family.
Arrangements are entrusted to Gridley- Block Funeral Chapel.
Send Condolences to
www.appealdemocrat.com
Published in Appeal Democrat on February 19, 2012
Notification from Michael Judson Bigelow < mjb5491@gmail.com >

---
Eulogy by Larry W. Campbell, Clare's nephew, Feb. 23, 2012 at North Butte Lodge 230 F&AM, Gridley, CA:

Clare Bigelow Campbell was born Dec. 12, 1914 as the youngest son of Richard "Dick" Campbell and Florence Bigelow Campbell. He was born in San Francisco because his mother wanted to be in a good hospital if any problems arose. Clare attended Manzanita Elementary School where his father and 4 uncles were among its earliest students beginning in 1868. He either walked or rode a girl's bike to school and often ran into something that bent the frame. The bike needed welding to repair. Clare later wished he had welded a boy's bar from the seat to the handle bars to prevent the frame from collapsing.
He rode the bus to the old high school on Sycamore St. in Gridley. Because he rode the bus he could not join after-school sports or activities. But he could play basketball during school. He was a forward and captain of the "B" team, because the "A" team was all the tall guys. In one close game with Oroville, the coach switched him to guard so their good center could tip the ball to Clare. He dribbled a little past the center line and made a long shot to win the game just in time.
When I visited with Clare in recent years, his memory of his past was very poor. However, Monte Deal was with him shortly before his passing when his memory became very sharp. What did he remember? Clare told Monte of his memories of running in track meets. There was a Japanese boy on another team that always beat Clare by a few steps, both in the 100 yard dash and the 440 relay. As hard as Clare tried, he could never beat him. We never knew he participated in track. However, running fast is consistent with another story. Clare was short and thin with a mellow disposition, while his older brother was tall and prone to be critical like some of their uncles. I asked Clare how the brothers got along. He said there were no problems because if there were he would just punch him hard. I asked why his brother did not squash him like a bug? Clare said because he could run faster.
Clare was a very good man who lived a good life doing what he enjoyed on a historic ranch. Clare's great-grandfather, Andrew Campbell, came from Blue Grass, Iowa, to Butte county at age 22 during the Gold Rush in 1851. Andrew and his brother George filed gold mining claims along the western banks of the Feather River. They were told only land along the river banks had value, but the land back off the river had no value, so they could extend their mining claims as far back off the river as they wanted.
Andrew and George wisely claimed the land about a mile back to the Live Oak-Hamilton Road which later became Larkin Road. That gave Andrew about 720 acres of good California farm land that quickly became more profitable than panning for gold on the river banks.
The problem was that their land claims, and probably all of Gridley, was in the Boga Spanish Land Grant that had been purchased by Thomas Larkin. When Butte County was finally surveyed so homesteaders could buy their claims, they did not include Spanish land grants in their surveys because the courts had to resolve who had rights to that land. Thomas Larkin wanted all the illegal squatters to get off his land so he could mine the gold. Andrew and George had to "squat" on their claims without leaving them unattended for 16 years until they were finally able to buy their land from Mr. Larkin.
Andrew had eight children who all inherited equal parcels of the 720 acre ranch, but only Clare's father Richard Campbell, kept his share of that original ranch, which Clare later inherited. The brothers had a system to work on their parents' ranches. Clare would take the early shift and drive the tractor from sun-up until noon. Then, his older brother Wallace would drive the tractor from noon until sundown. When WWII began in 1941, Wallace was drafted in the Army while Clare had to operate both the original ranch and their parents' almond orchard in Pennington.
When their mother died in 1949, the brothers could continue to operate both ranches in partnership. However, Clare believed it would be best if they each could be their own boss on one ranch. Clare offered Wallace his first choice of the ranches. Wallace chose the more profitable almond orchard in Pennington, which left Clare with the less profitable remainder of the original ranch and homestead.
Clare was honored three times at the California State Fair for owning farm land that had been continuously operated by the same family for 100 years, 125 years, and 150 years. There are only 17 families in California who received the 150 year award. Clare's grandchildren, Monte and Julie Deal continue to operate what remains of that 1851 gold mining land claim, and are well on their way to 175 years.
Clare's father liked to travel with his family. Clare remembered many trips where he drove while his parents enjoyed the scenery. To reduce costs on all trips, they camped in heavy canvas umbrella tents, slept on cots and cooked on a 2-burner Coleman stove. Dick bolted a large box on the passenger side running board of a 1927 Buick sedan. It carried the camping gear and food.
Clare remembered trips to the Sierra Nevada mountains, Yosemite, Grand Canyon, Carlsbad NM, Yellowstone, up and down the California coast to San Diego, and to Canada twice to the Calgary Stampede and Victoria. While in Canada, Dick wanted Clare to drive up to Edmonton. At that time the province maintained the good roads between towns, but towns neglected their duty to maintain the road through town. Dick had to hire a horse team to pull their car through one town's bad roads. Dick soon decided he did not want to go through many more towns like that just to get to Edmonton. In 1936, while Clare was a student in San Francisco, he picked up his father's new Oldsmobile sedan delivered to the Benicia docks and drove it home. Clare then drove it on the next family trip to Mexico City.
It may have been that trip through Mexico that inspired the prickly cactus garden across the driveway at their home.
After high school, Clare attended Yuba Junior College located in the same buildings as Marysville High School. Then he went to Heald's Business College in San Francisco near the waterfront. The first year he studied pharmacy to become a pharmacist. Clare soon decided he was an outdoor farm boy who did not want to spend his life inside all year behind a counter. So he switched to Heald's Engineering College and majored in diesel engines, because gas tractors were going out and new tractors for the ranch had diesel engines.
Heald's had three diesel engines. One was a huge tall stationary 3-cylinder engine that did not run. Clare and a friend, Delmer Williamson, decided to make it run. They had to make large piston rings and repair the fuel injection push rod. When they got it to run, black smoke filled the large room. The instructor said they better shut it down before the fire department was called.
While at Heald's, he stayed in a boarding house where another boarder was Ed Evans, an extrovert socializer. They became best friends. They decided that it was costing them each $35 a month, so they could save money by getting an apartment together. Ed worked for a creamery that required him to put in long overtime hours without extra pay, so Ed took his own compensation by selecting enough food from the creamery store for both of them. When Clare finished college, he got different jobs through the Masonic Order Employment Office so he could remain in San Francisco. After work, dating as many girls as possible was Ed and Clare's main goal.
Clare took Ed home to the ranch one weekend. Clare's father said they were going to Reno for the weekend and invited the boys to go. In Reno, Dick said they had one car and two families who wanted to use it. He told the boys he wanted the car there at 6AM and it would be the parent's car until 6PM. Then, from 6PM until 6AM the boys could use the car. They eagerly accepted. Ed remembered that Richard "Dick" Campbell was a most likeable man. Are there any old-timers here today who knew Clare's good father, Dick Campbell who was an active Mason? (None did)
Ed Evans had an older sister, Pat. Pat's friend was Ed's girlfriend. They both came to visit Ed. Clare loved Ed's sister Pat at first sight. The four of them went to hear well known stars like Rudy Valle at local night clubs where there was standing room only. After several weekend visits, Clare's time in San Francisco ended and he returned to the ranch. However, he drove to Gilroy to see Pat as many Sundays as he could, or they would meet in Merced. Clare proposed marriage often, but Pat took more time to decide. Pat had a daughter, Patsy, and was older. But Clare persisted until Pat said "Yes," and we are glad she did.
Clare told his parents that he needed a new house on the ranch to get married. They decided that Clare would build his parents a house in Gridley on Kentucky street so Clare could live on the homestead ranch. Clare and Pat were married in 1941 by his uncle, Arthur Bigelow, a judge in Berkeley, CA.
Clare & Pat enjoyed camping and fishing. Some of you may have been their camping companions. They took their young nephew, Larry Campbell, on a camping trip to Philbrook Lake. Clare hiked back in the mountains to fish the streams. I stayed close to camp and fished off the lake dam. Not knowing how to fly fish, I let my fly sink deep in the water until I saw sunlight flash off a fish near my deep fly. I pulled the rod and hooked a big trout in its side. The big trout was about to pull me off the dam into the deep water when I could not swim. Just then, Clare came back and saw the problem. Clare grabbed me with one arm and the fishing pole with the other to land the fish. Pat praised me for catching a much bigger fish than Clare. Pat often told me I was her favorite nephew. That really puffed me up for a few years, until I later realized that I was her ONLY nephew at the time.
Clare followed his father and grandfather in active membership in North Butte Lodge 230 of the Masonic Order. His grandfather, Marcus J. Bigelow, was among the earliest officers who served a rare six terms as Master Mason beginning in 1878.
On August 12, 2001, when Clare was 86 and Pat was 93, they were honored by many friends and family on their 60th wedding anniversary in the home of Ed's son, Mark Evans and his wife Margaret. This very active couple danced to the music "I Left My Heart in San Francisco." Four months later in December, Pat passed away. We all enjoyed this happy couple who made us all feel good.
When Clare needed care in a senior living home, he found an unexpected fraternal friend. In 1958, Blythe Gentry was initiated into the Eastern Star. Clare was Assistant Grand Lecturer who presided at the ceremony. Decades later, they lived in the same Pierce Home and became close friends. Clare was sad when Blythe transferred to an unknown home. While Monte was looking into a new home for Clare at Summerfield in Yuba City, Clare did not want to leave his life-long roots in Gridley. While he was protesting, Blythe Gentry appeared and Clare lit up. She showed him around and all was well. They played cards, dominos, and watched TV together. The family credits and sincerely thanks Eastern Star sister Blythe Gentry for helping Clare eat better, get more walking exercise, and enjoy life much more during his final years.
The family really appreciates all of you for coming today to show your love for our Masonic brother, uncle, grandfather, great-grandfather, and very good friend, Clare Bigelow Campbell.

---
Modified - 02/20/2012
(c) Copyright 2012 Bigelow Society, Inc. All rights reserved.
Rod Bigelow - Director
< rodbigelow@netzero.net >
---
Rod Bigelow (Roger Jon12 BIGELOW)
Box 13 Chazy Lake
Dannemora, N.Y. 12929

< rodbigelow@netzero.net >