Alanson 7 BIGELOW
---

16C58.81 Alanson 7 BIGELOW, son of Alanson 6 ( Luke 5 , Jabez 4 , Eleazer 3 Joshua2, John1), and Anne R. (BANGS) BIGELOW, was born 03 August 1837 at Cambridge, Middlesex co., MA, and in 1862 married Sarah Elizabeth Lane born 15 December 1842. This family resided in Boston where Alanson was associated in his father's business: Bigelow, Kennard & Co., importers and dealers in watches and jewelry.

Children of Alanson and Sarah Elizabeth (Lane) Bigelow:

16C58.811 Alanson, b abt 1864 Cambridge, MA; d _____ ; m Francis V. she b abt 1863 in MA; but had no children.

16C58.812 Ernest Abraham, b 04 Feb 1868 ; d ____1944; m 1892 Helen Talman; 3 children:

16C58.813 Homer Lane, b _ abt 1873 MA; d _____ ; was an artist; marriage unknown; 3 children: Homer Jr., Malcolm, and Priscilla. (see below)

16C58.814 Dorthea, b _ abt 1885 MA; d _____ ; m _____ ;


There was one other child according to family descendants.

Sources:
Bigelow Family Genealogy Volume. I page.368;
Bigelow Family Genealogy Volume. II page 286;
Howe, Bigelow Family of America.
correspondence with distant descendants.
New Note:
Subject: Watch - Bigelow Kennard & Co.
Date: Mon, 3 Nov 2003 13:08:36 +0100
From: snntlprm@tiscali.it

dear signore,sono in possession of a clock built by his family I would like
to know the period of construction, I send the two photos to her one of
the quadrant one of the movement.
best regards
Giovanni Antonio Sanna
Italy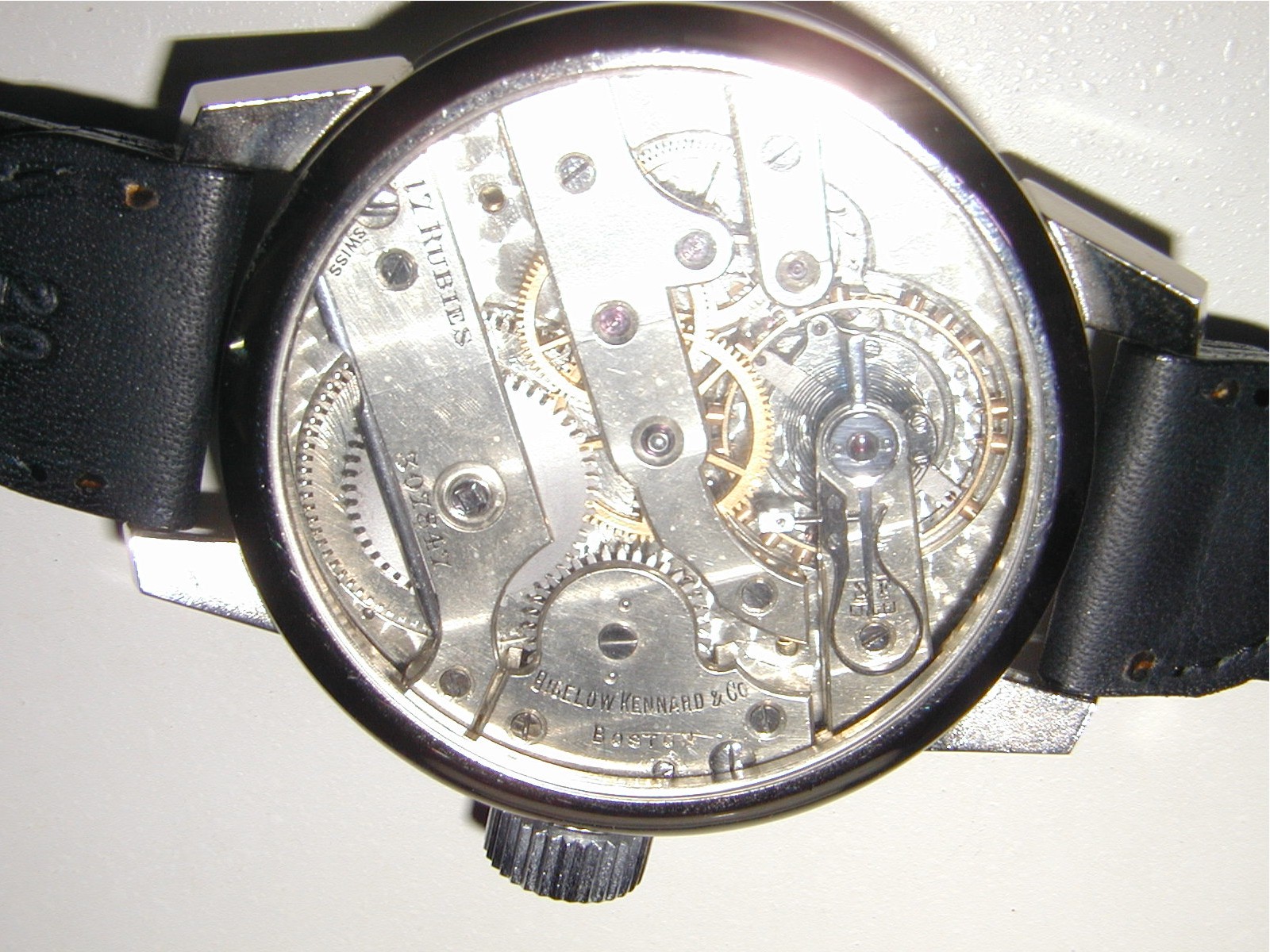 MOVEM.JPG

QUADRANT.JPG
---
Note:
Subject: boston jeweler bigelow kennard
Date: Wed, 13 Dec 2000 22:49:00 -0500
From: jasro < jasro@mediaone.net >
I am researching the Boston jeweler Bigelow Kennard and specifically, Alanson Bigelow's son Alanson, jr. if you know of any other relevant info regarding this on your site feel free to email me.
Thanks and congratulations on a very professional site. Jim

---

Note3:
Subject: Homer Lane Bigelow
Date: Wed, 05 Feb 2003 07:30:56 +0000
From: JOHN.trautwein@att.net

Hello,
While browsing your webpages, I found an entry for Homer Lane Bigelow. I have
more info on him (my wife's family still lives in his house and owns lots of
his stuff), with names of children and his wife, etc. If you are interested
and are still collecting this information, please reply and I'd be happy to
tell you what we know.
Regards,
John Trautwein
Sarah Eldredge

Note2:
Subject: Cynthia Bigelow
Date: 04 May 2004
From: Heather Nash < Heather.Nash@anu.edu.au
Hello Rod
Some time ago I was in contact with you concerning the Ernest A Bigelow family, descendants of Alanson Bigelow, who lived in East 56th Street, NYC during the first half of last century. I have uncovered quite a bit of information and am now seeking contact with descendants of Cynthia Bigelow (b.1903) who married JJ Hendon Hyde in 1923.
They had two children and I am wondering if their children are still living and contactable. Would it be possible to place this email message on the website, adjacent to my email correspondence of July 2001?

Thanks and best wishes,
Heather Nash
Projects Officer, Human Resources Division
Building Chancelry 10B
The Australian National University 0200
Telephone: 02-6125.5967 Int. 61-2-6125.5967
More:
Subject: KATHE(A)RINE BIGELOW-MOORE-ROGERS
Date: Mon, 30 Jul 2001 10:30:57 +1000
From: Heather Nash <   Heather.Nash@anu.edu.au  
Kathe(a)rine Rogers (I think nee Moore) married Ernest A Bigelow, Jr,
of New York (I'm not sure if this means the city or the state) during WW1. 
He died not long after, about 1917-19,  possibly on active service. 
She then married Herman Rogers in about 1920.kind regards,
Heather Nash

More:
I have just found the Bigelow homepage and am amazed by its breadth, given that I have only once heard the name Bigelow. I wondered if you could tell me if you have any information about Katherine (not sure whether it is 'ar' or 'er') who was born Katherine Bigelow probably sometime in the 1890s in the US. During WWI she married someone named Moore, who died soon after and then married Herman Rogers (b. NY circa 1892) in about 1920-21. She died in the south of France in either 1948 or 1949.
If there was any infor. re Katherine Bigelow-Moore-Rogers, her second husband (d.1957) or his second wife Lucy (Wann) Rogers, still know to be living in 1981, I would be most interested. You may be aware that Katherine and Herman Rogers were close friends of the Duke and Duchess of Windsor and figure prominently in that chapter of history.
Yours sincerely
Heather Nash
Deputy Faculty Executive Officer
(Graduate Student Administration & Academic Staff Promotions)
Faculty of Arts
Haydon-Allen Building
The Australian National University 0200
Tel. (02) 6125.2629
Fax. (02) 6125.0743

---
Modified - 06/09/2008
(c) Copyright 2008 Bigelow Society, Inc. All rights reserved.
Rod Bigelow - Director
< rodbigelow@netzero.net >
---
Rod Bigelow (Roger Jon12 BIGELOW)
Box 13 Chazy Lake
Dannemora, N.Y. 12929

< rodbigelow@netzero.net >

BACK TO THE BIGELOW SOCIETY PAGE

BACK TO BIGELOW HOME PAGE