The 2011 Reunion

Alpena, MI

09-11 Sept 2011


The 2011 Bigelow Society Reunion, will be held in Alpena, MI September 09, 10, and 11, 2011.
Alpena, MI is in the Thunder Bay area of Lake Huron (see maps below).
Alpena is one of Michigan's "Cool Cities" for its commitment to building a vibrant, energetic, attractive city. Northern Lights Ice Arena is a "cool" place for hockey and great events and is the home of the NAHL Junior A Alpena Ice Diggers hockey team. Taste and purchase locally-made wine at a country winery or visit a local brewing company, where beer and soda are on tap for the tasting. Enjoy hot coffee and conversation at a downtown Internet café or dinner at a historic saloon that catered to rough and ready lumberjacks. An attractive downtown area, an enclosed shopping mall, antiques mall and a variety of major chains offer the visitor tempting options for both shopping and dining. Motels, bed and breakfasts, resorts, cabins and campgrounds offer a wide range of accommodations, amenities and inviting extras.


There are 3 Motel Chains:
NEW The 2011 Bigelow Society Reunion registation on Sept. 9 and 10 9:00 in the morning.
Our reunion will be held at the DAYS INN ON HIGHWAY 32 ALPENA , MI. BE SURE TO MAKE YOUR RESERVATIONS BEFORE AUG. 24 .
CALL HOTEL NO. 1-(989) 356-6118
IF YOU WANT INFORMATION ON THE AREA CALL DEB. PARADIKE AT THE CHAMBER OF COMMERCE 1-800-425-7362.
FRIDAY WE WILL HAVE A SPEAKER ON THE HISTORY OF THUNDER BAY IN OUR MEETING ROOM AT 1:30.
On Friday 3:30 to 5:00 WE WILL TOUR THE MARITIME MUSEUM.
AT 5:30 WE WILL EAT AT THE 19TH HOLE RESTURANT'.
SATURDAY WE WILL HAVE A SPEAKER ON GENEALOGY ON THE WOMENS SIDE AT 2: 00. LUNCH BOTH DAYS IS ON YOUR OWN.
SATURDAY, DINNER WILL BE AT 6:00 AT THE JOHN A . LAW RESTAURANT. COST IS $15.00 .
THE SPEAKER WILL SPEAK ON THE GHOST THAT INHABITS THE RESTAURANT.
THERE WILL BE A BOARD MEETING AT 10.00 ON FRIDAY AND SATURDAY.
IF YOU HAVE ANY QUESTONS CALL JACKIE WOODS AT 1-810-635-4048
Best Western: (989) 356-9087; http://book.michigan-hotels.org/hotel/?refid=1073&rs_hid=57934&view=o
Days Inn: (989) 356-6118; http://www.daysinn.com/DaysInn/control/Booking/property_info?propertyId=04670&brandInfo=DI
Holiday Inn: (989) 356-2151. http://www.holidayinn.com/hotels/us/en/alpena/apnmi/hoteldetail/photos-tours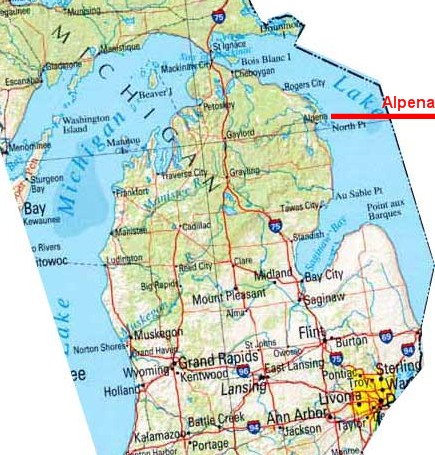 Rod Bigelow
Box 13 Chazy Lake
Dannemora, N.Y. 12929

rodbigelow@netzero.net