From:
Ryan Freedman < jrprince77@hotmail.com >
Rod,
I live in Marlborough MA, bought my house from a Bigelow. The house has been in the Bigelow family since they built it in the 1800's. I found a bunch of stuff in the crawl space that I just donated to the Marlborough historical society. But I still have access to it and have scanned in pictures of some of it too if you are interested.
I found your website exptremely helpful in researching the people associated with the stuff I found so I'd like to provide you with whatever info you would like. It appears that the people who lived in this house started with Lambert (15182.47), then E.L. (15182.477), then George L. (could be Lambert George, 15182.4772 ??), then his son Edward F who is not on your site born 1911.
Lambert (15182.47)
and his brother, Levi, had a store here in Marlborough. One of the things I found was their
retailer's license for that store (attached)
. I also found a shoe box full of estate lists for a variety of people (many family members). If anyone is intereseted in viewing the estate listings of any Bigelows who died in the Marlborough area in the first half of 1800s, there's a possibility they're among the ones I found. Sorry I can't provide a list, I didn't go through them, but they are at the Marlborough historical society now, available to the public.
I also found a
tin picture of a Civil War soldier (attached)
but I don't know who it is, I'm wondering if anyone has an idea of who this could be. I also found a couple of letters from civil war soldiers in the 34th regt. but I don't know how their authors (Lewis Seymour and Bernard Scheitlin) relate to the family, maybe just friends. I'd appreciate any info.
Ryan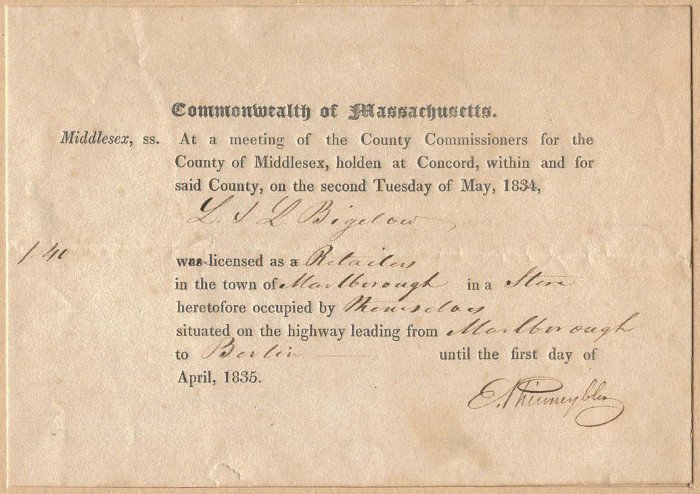 Retail license