The Winthrop Woman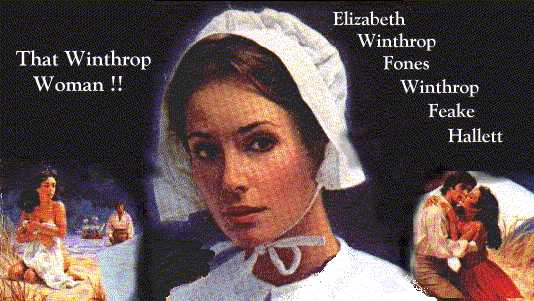 ---
This is from a docu-drama book called The Winthrop Woman, that is very well researched by Anya Seton. On page 250, there is related a cannon-ball pitching contest between Will Hallet and "his opponent -- Bigelow, the blacksmith." The contest was held in the Common of "little Boston", on Election Day 14 May 1634. The book relates the life of Elizabeth, a grand-daughter (see below) of Adam Winthrop, and a passenger on one of the ships of the Winthrop Fleet. Elizabeth later became the wife of this Will Hallet.
It is probable that John Biglow and/or Mary Warren (his wife) came over on one of the ships of the Winthrop Fleet. Mary's Parents, John and Margaret Warren, were reported on one of the ships:
"John Warren came to New England from Nayland, Suffolk, England, with the fleet of Sir Richard Saltonstall. [4/462] The fleet arrived at Salem June 12,1630. John Warren traveled with Governor Winthrop aboard the "Arabella".[9] From Salem, he with the rest of the company went to Charlestown, whence, after a brief stay they moved to Watertown.[2/252] John Warren settled in Watertown, Massachusetts at age 45." From passage taken from Warren 1 page.
(see below) for TV movie info.....11/07/2000

Elizabeth crossed paths with Bigelows, Warrens, and others in Boston, Watertown, CT, England, and aboard ship. Her mother was Anne (Winthrop) Fones, and her father was Thomas Fones, an apothecary in London in 1617. Anne Fones' father was Adam Winthrop, who had been a wealthy Suffolk clothier at Lavenham. He had risen to be Master of the Clothesworkers Guild in London, and like many others, celebrated his successes by joining the gentry. This was accomplished by means of a coat-of-arms awarded by the Royal College of heralds and a manor grant bought from the King. The Winthrops were henceforth esquires and lords of Groton Manor. The book opens up with Elizabeth, her younger sister Martha, her mother, and her father traveling from London to Groton Manor to visit the relatives. John Winthrop, Anne Fones brother, was Lord of Groton Manor. Their father was Adam Winthrop , and their mother and his wife Mistress Winthrop also at Groton Manor. She had been plain Anne Browne of Edwardstone, a yeoman's daughter, before their marriage. It was June 19, 1617, and there was a cruel east wind from the sea that linked their Suffolk coast with Holland. It was the time of King James and his Queen? The King's children were Charles, the Prince of Wales and Elizabeth, Queen of Bohemia.
"John Winthrop was born in Suffolk, England in 1587. He was his parents' only son. His father, Adam Winthrop, was the lord of Groton Manor, a small estate in the English countryside. John grew up on his father's estate, amid gently rolling hills, fields of wheat and rye, and shallow ponds. In his childhood he as educated by a private tutor, and at the age of fourteen his father enrolled him in Trinity College in Cambridge. He studied there for two years and then returned to Groton to begin practical training in running his father's estate. Soon Adam Winthrop saw his son's hidden marriage problem and introduced him to Mary Worth (Forth- see below), the daughter of a distinguished Essex nobleman. Three weeks later John was married at the age of seventeen. Ten months later, just after his eighteenth birthday, he became a father. John and his wife Mary worked hard and had six children in ten years. Then Mary suddenly died. After six months John remarried, but on his first wedding anniversary his second wife died. One year later John married his third wife, Margaret. By all accounts, Margaret was one of the most appealing women in all of American history. She was beautiful and gracious. She was also a woman of faith. John Winthrop treasured her as his greatest possession. When he traveled away from home, he never failed to send her love letters." From Winthrop Papers text .

John Winthrop's children were also in Groton Manor upon Elizabeth's visit in 1617. The oldest appears to have been Lucy age 16 and the 2 youngest being Forth and Mary. John Winthrop's wife and their mother had died previously(as stated above).

To jump ahead a bit, "It was 6 July, when John Winthrop sat in his private bark wigwam at Charlestown on the Mystic river, writing home-bound letters for which Captain Pierce, Master of the Lyon, was waiting........... there was a crowd of people milling about as usual outside, desirous of interviews. They were discontented settlers, tired of existing on mussels, wild berries and Indian corn......There were also 4 Indians.........two of which were John and James Sagamore....with the chief of the Neponsetts, Chickatabot." The narrative goes on with this interesting section: "Many of Winthrop's company were sick of the scurvy and flux, the water supply at Charlestown was poor. It was obvious , as the ships straggled in, that so many people could not exist on this barren peninsula. Already Sir Richard Saltonstall and the minister, George Phillips, had gone up the Charles and found a new location which Sir Richard called Watertown........Each day since arrival at Charlestown the ships had been coming, after touching at Salem for directions. The Mayflower, the Whale, the Hopewell, the Trial, the Success, the William and Francis, and at each landing Winthrop had questioned the passengers about Harry Winthrop", his son..........He had his other two sons with him, Stephen and Adam........One day Winthrop heard word of the Talbot, and Peter's possible passage on it. It was long overdue and on the day of arrival: "Er flag also is at half-mast", said Capt. Pierce....."When they land send them here", said Winthrop..........Henry had died after diving into the cold water on a very hot day at Salem, four days ago.

Elizabeth Fones came over to the New World on the ship "Lyon", also part of the Winthrop Fleet. Her fellow passengers included Will Hallett, mentioned above; Jack, son of Governor John Winthrop; and Martha, Elizabeth's sister. Also on the ship was Margaret, the Governor's wife and his youngest children.
Below are some links relating to Gov. Winthrop, by noted academicians:
The Winthrop Papers project of Prof. Frank Bremer of Millersville University.
A role for Winthrop in today's schools by Prof. David Williams of George Mason University.
A short text about Winthrop by Prof. Fred Shafer of Pennsylvania State University.

Here are some links to other organizations of interest to family historians:

Cyndi Howells' wonderful Massachusetts genealogy resources and vast links.
IMC genealogy links.
US Gen Web.
The National Genealogical Society.
The Genealogical Publishing Company of Baltimore: the world's best.
Ancestry, Inc. --- a large resource. A reputable service with nominal prices.

Check out the pages by some of the Members of The Winthrop Society!

To request an application to The Winthrop Society and info by US mail, send e-mail by clicking here.
Descendant note:
Subject: Elizabeth Fones, THE WINTHROP WOMAN
Date: Mon, 7 Sep 1998 00:43:04 EDT
From: TBMYALL@aol.com
Enjoyed reading your page about Elizabeth. She is my 8th great grandmother!! I have 2 copies of THE WINTHROP WOMAN, by Anya Seton. I descend from two of her children, Hannah Feake who married John Bowne and John Feake who married Elizabeth Prior. Barbara Clark Myall
Descendant Note 2:
Subject: John Winthrop
Date: Wed, 13 Jan 1999 00:19:23 EST
From: MrdFargo@aol.com
I am a direct descendant of John Winthrop,Senior (and John W. Jr.). I respectfully wish to correct you in regards to the name you have given for John, Senior's first wife. In your writings about John on the net, the name you have given for his first wife is Mary Worth and this is incorrect. Her correct name is Mary Forth, and she was the daughter of John Forth, esq. of Essex, England. If you will check The Genealogical Register of the First Settlers of New England by John Farmer (Genealogical Publishing Co. Inc., Baltimore - revised from the original publication of this book, published in Lancaster, Massachusetts in 1829) you will see that John's first wife was, indeed, Mary Forth. My sister, who is an LDS genealogist, has thoroughly researched our John Winthrop ancestral line, and all of the centuries old records she has researched state that John's first wife was Mary Forth (old English was Forthe). Please correct maiden surname in the writings you have about John Winthrop on the net.Millions of people do their genealogical research on the net and it is only fair that they receive the correct information. Thank you so much for taking the time to read this and I promise you I will not pester you anymore about this. I just want the record set straight, not only for those millions who do their ancestral researches, but for present day historians who do not always have the time to delve into all of the old records in dusty genealogy books and must rely, instead, on more recent writings, such as yours, when they do their own historical research. Sincerely, Mary Donato
Note 3:
Subject: The Winthrop Woman
Date: Wed, 27 Jan 1999 15:45:04 EST
From: Barbara Clark Myall TBMYALL@aol.com
In reading your John1 Bigelow web-site, I noticed an error regarding Elizabeth Fones Winthrop Feake Hallet who is the subject of The Winthrop Woman, Anya Seton, 1958. Elizabeth was the niece of Gov. John Winthrop, not the granddaughter. Gov. John was appointed her guardian after the deaths of her mother, Anne Winthrop, sister of Gov. John, and father Thomas Fones. Elizabeth was first married to Henry Winthrop, son of Gov. John. They were first cousins. Henry, who had accompanied his father to MA in 1630, drowned at Salem, MA at age 23 leaving Elizabeth a widow with a baby in England.
Elizabeth came to America in 1631 on the ship Lyon, along with Martha Winthrop, 3rd wife of Gov. John. Also on the ship was William Hallet who had the contest with John Bigelow. Hallet was also Elizabeth's 3rd husband.
Elizabeth is my 8th great grandmother. Thank you. Barbara Clark Myall

see also http://bigelow.simplenet.com/elizabeth_knapp.html ...........................ROD
Note3:
Subject: Documentary of Elizabeth Fones Winthrop Feake Hallet
Date: Tue, 15 Feb 2000 16:29:25 -0500
From: Gunnar Sahlin < sahlin@snet.net >
Date: Fri, 3 Nov 2000 10:20:20 -0500
From: Coline Jenkins-Sahlin < cocococo@juno.com >
Thank you so much for mentioning our TV production on Elizabeth Winthrop. The June 2000 premiere in Old Greenwich Connecticut, the town founded by Elizabeth, was a smashing success. Dozens of her descendants flew in for the premiere and
toured historic sites associated with Elizabeth.
Now that the premiere is past, would you kindly update the web site with this new text information and photo. In this e-mail I have attached a copy of the video jacket of the Elizabeth Winthrop documentary. The program tells of Elizabeth arriving on
the shores of America in 1631. She, like many colonial women, exhibited remarkable courage in the face of tremendous adversity. Her work, and that of other women in New England, help build a nation. The program is NOT historical
fiction, but is peppered with commentary by America's foremost historian on colonial women. It runs 28 minutes and has aired on Public Broadcasting. It can be ordered e-mailing Third Wave TV (cocococo@juno.com.)
Many thanks for spreading the history of the great Winthrop family.
Coline Jenkins-Sahlin
Producer Third Wave TV cocococo@juno.com

---

Note4:
Subject: John Winthrop/Winthrop Woman.
Date: Mon, 13 Mar 2000 17:09:35 EST
From: Dee Cary JHSB@aol.com
I was pleased to find your message on the Warren/Bigelow web page. I have done quite a lot of research on our ancestors, many of whom came with Winthrop and before. I have also visited many of the places in England re research, including these villages. You mentioned that you are very knowledgeable on Winthrop.
Being a descendant of Bigelow and Warren. I have spent some time trying to locate the documents re the incident that the Warrens/Knapps were responsible for Elizabeth leaving Mass in 1649. as quoted in the book, the Winthrop Woman. This book is listed an 'historical researched' novel, not a biography, and mentions the reason for Elizabeth Fones leaving Watertown in 1649 was an accusation of witchcraft by the Goody Warrens and Knapps.
From my research, this appears to me to be unfair and unfounded statement, and placed in the book by the author to give a dramatic content. Some folks are inclined to take this a little too seriously. Therefore could you, or a Winthrop researcher, quote/give me a documental source/evidence for this incident? I have been unable to locate any and the recent NEHGR article on Capt. Patrick, confirms that she left Mass. because she was living with Mr. Hallett, and therefore unacceptable to their strict Puritian 'ways'.
As you mentioned in your letter, people take what is written as the undisputed truth. The book is a novel, so the author did not have to write with historical accuracy, but to market a book, and protect her heroine's image. I have no problem with that, but if the Warren/Knapp family are as I believe totally innocent, (they did live next to Rev. George Phillips in England and members of his church!!), then a correction by one of her Winthrop descendants, prior to a TV documentary, would be a gracious gesture
and in keeping with such a lady.
Yours sincerely, Dee Cary.

---
Note5:
Subject: The Winthrop Woman
Date: Mon, 4 Dec 2000 00:13:31 EST
From: Tammy Boncella Bonbon624@aol.com
I saw your message at the Bigelow web site, and wondered if you had gotten any information about this yet... "The Winthrop Woman" is my 11th great grandmother, William Hallett is my 11th great grandfather. I believe you are correct about the accuracy of the book. First of all, it is labled as historical fiction, which means that obviously she had to have put some stuff
in there to spice it up a bit... I myself, do not believe Elizabeth left Watertown because of accusations of Witchcraft...
I just started researching my Winthrop line, but the information that I have states:
"A Connecticut warrant was issued for their (Elizabeth and Will Hallet) arrest on 17 May 1649, on a charge that they were living in sin, their child William having been born..." This is from "Ancestral Lines Revised" by Carl Boyer, 3rd, Newhall, California, 1981 page 191
hope this clears things up a little... Happy hunting!
Tammy Boncella in PA
bonbon624@aol.com

---
Note6:
Subject: Re: The Winthrop Woman
Date: Mon, 4 Dec 2000 19:43:34 EST
From: Dee Cary JHSB@aol.com

So far I have only skimmed thru 'The Winthrop Woman' so I am not too sure of its details. I corresponded with the Greenwich Historical Society Historian, who advised the TV movie on the book. As you probably know the author Anya Seton, purchased Elizabeth Fones (etc) Greenwich, Ct. property. The Historian, said that they have a letter from the author, where she clearly states that her book is to be treated as historical fiction, not a history. They have found many errors in the book, hence the TV movie did not follow the book.
So unless documentation comes to light, the Warren, Knapp and the witchcraft scenes are pure fiction.
My feeling is that Elizabeth left Watertown, simply because her husband Robert Feake wanted to settle in Ct. The
Elizabeth Winthrop. ae 19 who arrived in 1635 was Elizabeth (Read) Winthrop, 2nd wife of John Winthrop, Jr. not Elizabeth (Fones)Winthrop who married Robert Feake and arrived about 1631/2.
Another interesting detail being that the Warren's via Scarlett, were related by married by Gov. Winthrop's second wife, an heiress who died sp. So this puts more doubt on the possibility.
Thank you for the info re the Ct. Warrant, for I am very interested on the date she left Watertown. I also recently visited author Anya Seton's residence in Kent, England a moated manor house built in 1500, purchased in 1940 by an American and she was a longstaying guest, writing two of her novels there. The Greenwich Hist soc. was very interested for they were
unaware of this house.
One problem bothers me is that the Greenwich Historian was very sure that Tobias Feake who married wid Patrick, was Elizabeth's son. I did not argue, but my findings are that he was her nephew. What have you found? Dee Cary.
More:
Subject: The Winthrop Woman
Date: Tue, 26 Dec 2000 09:04:38 -0500
From: "Ellen Langston" < ellenlangston@hotmail.com >

I stumbled across your website, and I see where there has been a docudrama on "The Winthrop Woman". I am a direct descendant of her through her son William Hallet Jr. I was curious if you could direct me in be able to get a copy of this movie.
Thanks!
Ellen Langston
see Note3 above..........................ROD

---

John Bowne was born at Lime Tree Farm near Matlock, Derbyshire, England and baptized at Matlock 9 March
1626/27. He was the son of Thomas Bowne and his wife Mary. John came to America in 1649 with his father and his
sister, Dorothy. Legend has it that Thomas Bowne once encountered a bear while walking in the woods and killed it
with his walking stick. This stick was on display at the Bowne Mansion for many years. After a brief return to
England John landed at Boston again in 1651 and settled in Flushing, Long Island, probably about 1653. There he
met Hannah Feake (daughter of Robert Feake and Elizabeth Fones), and they were married 5th month, 7th day, 1656.
The town of Flushing (called "Vlissingen" in Dutch) had been established in 1645 when a group of men, largely
English, applied to the Dutch West India Company for the privilege of settling on Long Island. A charter was
subsequently granted by the governor, William Kieft, on 10 October 1645. This charter was unique in the New
World in its explicit grant of the right "to have and enjoy liberty of conscience, according to the custom and manner
of Holland, without molestation or disturbance from any magistrates, or any other ecclesiastical minister, that may
pretend jurisdiction over them." This remarkable concession was not made out of any liberal, starry-eyed notions
about religious tolerance, but rather as a practical matter to attract bodies (whatever those bodies' beliefs) to the
young colony. The Quakers, a sect universally persecuted in England and New England, thus gravitated to the area
of Flushing and freely worshiped for some years. Similar legal guarantees of religious freedom would appear in
Rhode Island and Maryland within a few years. John Bowne was not a Quaker prior to his arrival in Flushing. The
Quakers of the area worshiped secretly in the woods, and apparently first Hannah and then John were drawn to
these meetings out of curiosity. The curiosity became respect and finally conviction, and John Bowne became a
Quaker (probably around 1658-1660). Soon afterwards he ran afoul of Governor Peter Stuyvesant. Peter Stuyvesant
assumed the post of Director General from Kieft in 1647. He was a strict member of the Dutch Reformed Church (a
Calvinist sect) and by 1652 was energetically persecuting members of all other denominations. By steps he
outlawed worship by any except Dutch Reformed members in the colony despite word from the Company that it
"has always been our intention to treat them quietly and leniently." This culminated in the proclamation in 1656 or
1657 by Stuyvesant that "Beside the Reformed worship and service, no conventicles or meetings shall be kept in
this Province, whether it be in houses, barnes, ships, barkes, nor in the woods, nor fields, under forfeiture of 50
guilders, for the first time, for every person present, and twice as much for every person who exhorted or taught, or
who shall have lent his house, barn, or other place." This action, which violated the town's patent, provoked the
Quaker freeholders of Flushing to draft the famous "Flushing Remonstrance" in 1657. This declaration of religious
freedom has been regarded as a philosophical precursor to the First Amendment guarantees of freedom of religion that appeared in the Bill of Rights over a century later. In the event, however, it failed to convince Stuyvesant to desist in his suppression of the varied religious groups in Flushing. A few years later, in 1661, John Bowne built a house, alternatively called the Bowne House or simply Mansion House (pictured here as depicted by J. Milbert in 1825). The house was the
largest on Long Island and still stands today at 37-01 Bowne Street as the oldest home in Queens. It is open to the
public as a museum and shrine to religious freedom. The kitchen of the Bowne mansion was used as the Quaker
meeting place for many years until the construction of the Friends Meeting House in 1694 (this also remains today
at 137-16 Northern Boulevard). More pictures of the Bowne House may be found at the linked page. In September
1662 John Bowne's troubles with Governor Stuyvesant began in earnest. The kitchen of the Bowne house had been
used as the Quaker meeting place from the time of its construction, and the Dutch records testify to "Complaints
made 24th of August, 1662, by the magistrates of Flushing, that many of the inhabitants are followers of the
Quakers who hold their meetings at the house of John Bowne." Based upon these complaints he was arrested on 12
September 1662 by the schout (sherrif), Resolved Waldron, and imprisoned. He was questioned about the meetings
of "heretics, deceivers and seducers" at his house and stood mute. On 14 September the Council passed sentence:
"Because John Bowne, at present prisoner, dwelling at Flushing, L. I., has made no scruple in vilipendation of the
orders and mandates of the Director General and Council of the New Netherlands, we do in justice to the high and
mighty states of the United Provinces and the Administrators of the West India Company of the Chamber of
Amsterdam, having heard of the demand of the substitutes, and the acknowledgment of the prisoner, have
condemned and do condemn the said John Bowne by those present--Boete--5 and 20 pounds Flemish with the
charges of the Justician and with express admonition and interdict to abstain from all such forementioned meetings
and conventicles, or else for the second boete he be condemned in a double boete, and for the third boete to be
banished out of this Province of New Netherlands." Much to the chagrin of the governor and Council, Bowne
refused to admit his guilt or pay the fine they had imposed. On 25 September he was confined in a dungeon and
sustained on bread and water. By 6 October it was apparent that this tactic would not break the impassive Quaker.
He was moved to a prison room in the state house and allowed many visitors. The door was not always locked. It
seems that the governor hoped Bowne would either recant and pay his fine or simply escape and flee the province.
Either option would put an end to the headache that the Bowne incident had become. Finally, after more than three
months, the Council sentenced John Bowne to be banished from the colony. On 29 December 1662 Resolved
Waldron brought him word to put his belongings aboard the Fox. The ship set sail on 31 December, bound for
Amsterdam and an appearance for John Bowne before the Directors of the West India Company. After an
accidental side-trip through Ireland, John testified before the West India Company and was quite persuasive in his
arguments. On 16 April 1663 the Directors wrote a letter to Stuyvesant telling him to "...shut your eyes, at least not
force people's consciences, but allow every one to have his own belief, as long as he behaves quietly and legally,
gives no offence to his neighbors and does not oppose the government." John returned to Flushing via England
with this guarantee of religious freedom for the town. John's wife Hannah later became a minister and traveled to
England on a missionary trip where he joined her in 1676. Hannah died 12th month 1677 in London, and John once
again sailed for America. He subsequently married twice more and had sixteen children among his three wives. One
of his children by Hannah, Samuel, was the father of Mary Bowne (born 1699) who married John Keese in 1719/20.
John Bowne died at Flushing 10th month, 20th day, 1695 and was buried on the 23rd. The text of the Flushing
Remonstrance, which is housed in the archives of New York State, can be found on the linked page and a
chronology of the life of John Bowne at the other linked page.

Name:
John Keese
E-Mail:
jkeese@austin.rr.com
Homepage Title:
John and Barbara Keese Homepage
Homepage URL:
http://home.austin.rr.com/keese/
Referred By:
Search Engine
Location:
Comments:
Great site. Really interesting...
http://home.austin.rr.com/keese/

---
Rod Bigelow (Roger Jon12 BIGELOW)
8 Prospect Circle
Massena, N.Y. 13662

bigelow@slic.com Rod Bigelow at SLIC

BACK TO THE BIGELOW SOCIETY PAGE

BACK TO BIGELOW HOME PAGE