John 6 BIGELOW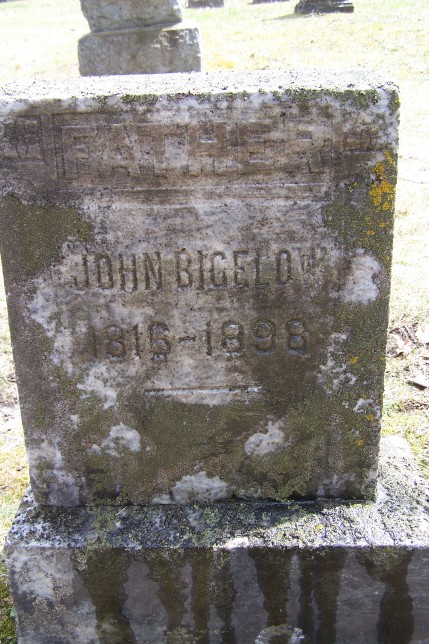 Highland View Cemetery: Big Rapids, Mecosta County, MI
---
16A43.5 John 6 BIGELOW, son of Stephen Moses 5( Moses 4 , Ebenezer 3, Joshua2, John1), and Phebe (WING) BIGELOW, was born 15 June 1813 Steadham, Upper Canada; (see below) (circa 1809-1814 in Vermont (varying ages given on censuses)). As a youth he lived in New York state, and there married, circa 1835, (1) Eliza Davis, who was born circa 1820 in England. Before 1840 they moved to Ypsilanti, Washtenaw county, MI, where the family was ennumerated in 1840. By 1850 he was in Calhoun county, near Battle Creek, but before 1866 moved to Big Rapids, Mecosta County. There on a small stream on the southeast edge of the community, he established both a sawmill and a flouring mill. The latter was well-known in its time. John's wife Eliza died between 1866 and 1869. Before 1873 he married (2)Lucetta Decker. John retired in the 1880's to Grand Rapids, Kent county MI after selling his many timber holdings and the mill, the transactions of which are recorded in Mecosta county. He died in Grand Rapids 12 March 1898, and is buried at Highland View cemetery, Big Rapids. (see below)We have no data on the second wife. (Birth year on stone shows John was 82; however death certificate shows he was 84 years old.)
In the 1880's John Bigelow corresponded with Gilman B. Howe, the Bigelow genealogist, and wrote in part: "My
grandfather's name was Moses, what his brothers' names were I don't know...My father's name was Moses..My father's brother was Levi, and my father lived with a man by the name of Arnold in Providence, RI, after his father was killed at Quebec."

Children of John and Eliza (Davis) Bigelow:

16A43.51t Myron Taylor, b 09 Dec 1836 NY; d 04 Mar 1912 Grand Rapids, MI; m Mary Elizabeth Gilbert. 1 son.

16A43.52t Stephen E., b 4 Mar 1838 Rochester, NY; d 31 May 1903 Big Rapids, MI; m Mary E. Varney. 4 children.

16A43.53 Phoebe A., b ca 1842 Ypsilanti. Washtenaw co, MI; d 12 Jan 1899 (aged 52) Grand Rapids, Kent County, MI; m (l) 1865 George French jr (1833-1910) (see below); and (2) 13 Nov 1886 Moses Abbey or Allye?. (There was a Moses Allye died 11 Oct 1922 and buried Fulton Street Cemetery, Grand Rapids, MI no further info) She was a physician and practiced at Big Rapids. (see below)

16A43.54 Eunice E., b ca 1844 Ypsilanti, MI.

16A43.55t William Harrison, b 2 May 1847 Battle Creek, Calhoun co, MI; d 04 Mar 1940 Grand Rapids, MI; m 07 Mar 1894 Minnie Irene Cross. 4 children.

16A43.56 Martha M., b _ Feb 1850 Calhoun co, MI.

16A43.57 Fred, b 1850's; went to CA.

Child of John Bigelow and Lucetta Decker:

16A43.58 John, b ca 1874 Big Rapids, MI. disappeared (see below)

Sources:
Bigelow Family Genealogy Volume. I page.352-353;
Howe, Bigelow Family of America;
censuses l840-1880 MI;
vital records MI; land deeds Mecosta co, MI;
history of Big Rapids, MI;
cemetery inscriptions, Highland View cemetery;
correspondence with family members;
Find a Grave


Fulton Street Cemetery; Grand Rapids, Kent county MI

Dr. Phoebe A. French Alley, after graduating from the homeopathic department, University of Michigan, in 1879, practiced in Big Rapids, later in Grand Rapids." [From Library of Congress. Pioneering the Upper Midwest: Books from Michigan, Minnesota, and Wisconsin, ca. 1820-1910. [database on-line] Washington: Library of Congress, 1999. Michigan State Medical Society. Medical History of Michigan. Minneapolis, MN: Bruce Publishing Co., 1930.CHAPTER VI, page 371]

"BIOGRAPHIC. Phoebe A. French Alley, M. D., was born at Ypsilanti, Mich., October 28, 1843. In 1878, with some previous preparatory study of medicine, she entered the Homeopathic Medical Department of the University of Michigan, and graduated in 1879. She began practice at Big Rapids, where she remained seven years, after which she removed to Grand Rapids, her present home." [From: History of the City of Grand Rapids, Michigan With an Appendix--History of Lowell, Michigan By Albert Baxter, New York and Grand Rapids: Munsell & Company, Publishers, 1891. CHAPTER LXII MEDICINE AND SURGERY http://www.rootsweb.com/~mikent/baxter1891/62medicine.html]

Mrs. Phebe French. formerly of this city, graduated from the Homeopathic branch of the Medical Department of the State University at Ann Arbor one day last week. By close application and persistent effort she succeeded standing at the head of her class, which is gratifying to her many friends in this city. [From the Big Rapids Pioneer Magnet, April 3, 1879]
"Michigan, Marriages, 1868-1925," Phebe A. Bigelow French, 1886
See:
Bigelow, John 6 ,#16A43.5( 1813-1898) Miller of Grain - Big Rapids, MI - From April 1984 Forge

Note1:
research of Alan E. Bigelow, Las Vegas, NV.
Email: bigaled53@aol.com
also see John 6 Bigelow Page 2;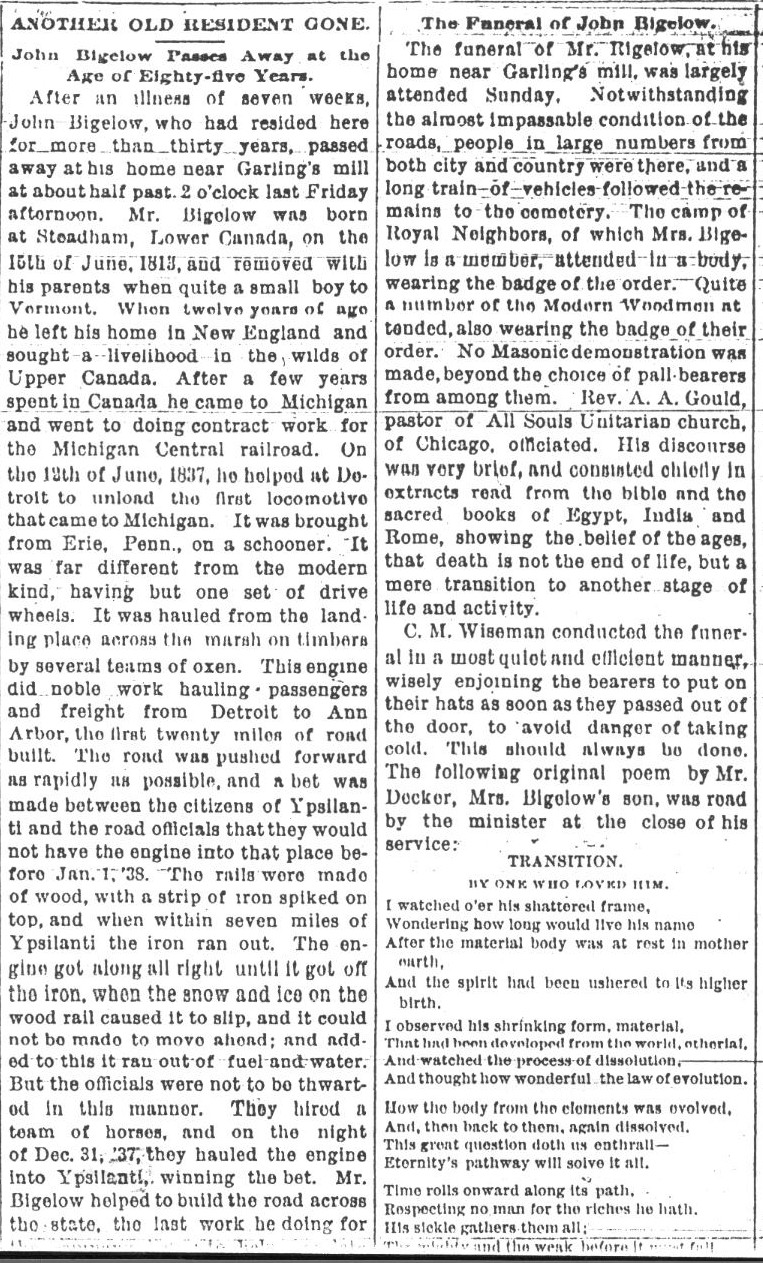 ---
Find a Grave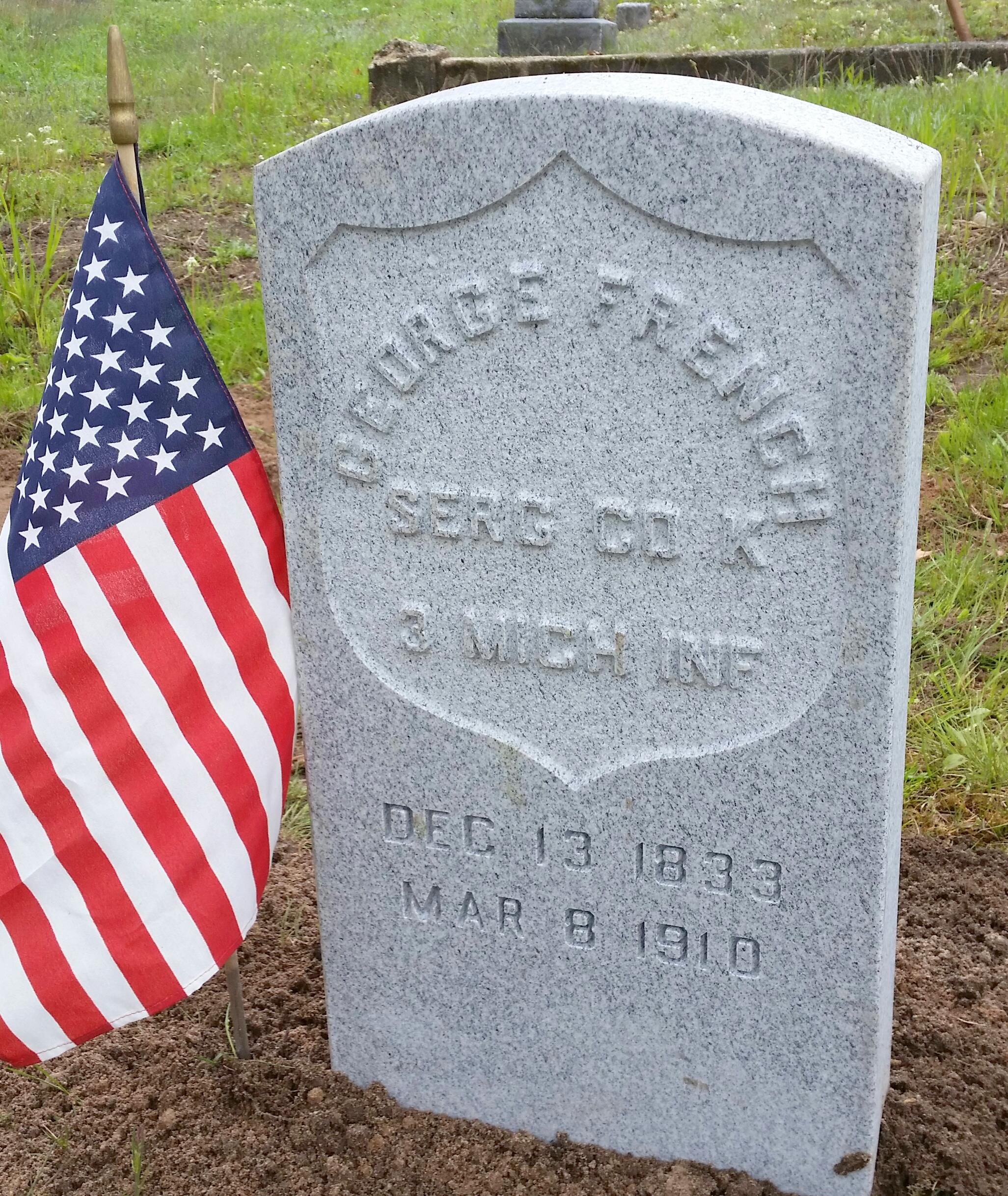 Pine Hill Cemetery; Cheboygan, Cheboygan County, MI
George French Jr, b 13 Dec 1833 Rossie, St. Lawrence County, NY; d 08 Mar 1910 (aged 76) Cheboygan, Cheboygan County, MI; m twice;
George French Jr. was the son of George and Sally Freeman-French. He enlisted into the Civil War "French, George, Jr., Mecosta County. Enlisted in company K, Third Infantry, as Corporal, May 13, 1861, at Grand Rapids, for 3 years, age 26. Mustered June 10, 1861. Sergeant. Discharged at Detroit, Mich., June 20, 1864." [From Michigan Volunteers, 1861 - 1865, page 42]
George got through the war alright but because of the war he didn't weather life very well after it. By 1910 he had lost his entire family except two sisters, Mary Johannah French-Cook who died on the 16 Mar 1910 and Emily French Abdell who died in 1923. George was married twice neither one working out for very long.


---
Modified - 03/14/2022
(c) Copyright 2015 Bigelow Society, Inc. All rights reserved.
Rod Bigelow - Director
rodbigelow@netzero.net
---
Rod Bigelow (Roger Jon12 BIGELOW)
Box 13 Chazy Lake
Dannemora, N.Y. 12929

rodbigelow@netzero.net