Daniel Eames 6 BIGELOW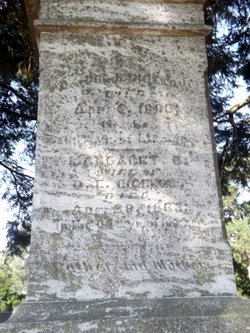 ---
14265.5 Daniel Eames 6 BIGELOW, son of Daniel 5 ( Joseph 4, Daniel 3, Daniel 2, John 1) and Mercy ( WOOD ) BIGELOW was born 10 March 1802 at Chester, Hampden county, MA. He married on 01 December 1831 Margaret E. Baker. She was born in Halifax, N.S. 20 October 1800. They lived in Chester until 1856, when they moved to Kewanee, Henry county, IL, where she died 29 August 1863. He died in the same town 06 April 1885.

Children of Daniel E. and Margaret (Baker) Bigelow, all born Chester, Worcester co, MA:

14265.51 Andrew Fuller, b 09 Oct 1835; d 01 Feb 1917 Henry co, IL; m 24 Oct 1869 Mrs. Alice Jeffries (see below); res Kewanee, IL, where he was Postmaster. No issue.

14265.52 Janette Grant, b 6 Oct 1837; d __ Nov 1880 Kewanee, IL; marriage, if any, unknown.

14265.53t Daniel Ames, b 24 Nov 1839; d 03 Nov 1890 Ames, Story co, IA; m 23 Nov 1868 Sarah Moore.

14265.54 Edward Earle, b 16 Oct 1842; d __ May 1873 Kewanee, IA.

Sources:
Bigelow Family Genealogy Vol I , p 204;
Howe, Bigelow Family of America; p 165;
cemetery records Ames, IA.
Alice was married first to a Kneelon A. Jeffries. They likely married in New York. They are found in Fulton County, Illinois in 1860 with her mother Lois in the home. Alice M. Jeffries married Andrew Bigelow on October 24, 1869 in Henry County, Illinois. The 1870 and 1880 census show a Grace Jeffries in the home. In 1880 she is noted as a step daughter. Also in 1870 is the elderly Lois Kimball in the Bigelow home. Lois Kimball died in 1875 and shares a grave marker with Grace Jeffries. Lois Kimble is found in Steuben County, New York in 1850 and has a 24 year old daughter Alice. Lois Kimball and Grace Jeffries are listed on the back side of the Bigelow marker.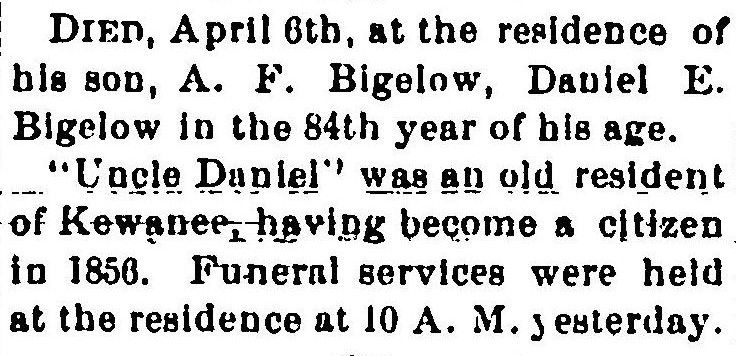 ---
Rod Bigelow
Box 13 Chazy Lake
Dannemora, N.Y. 12929

rodbigelow@netzero.net

BACK TO THE BIGELOW SOCIETY PAGE

BACK TO BIGELOW HOME PAGE