Col. Timothy 4 BIGELOW
Page 2
1695 Col. Timothy 4 BIGELOW, fifth child of Daniel 3, ( Joshua 2, John 1) BIGELOW and Elizabeth (WHITNEY) BIGELOW, was born Worcester, Worcester co, MA on 02 August 1739. He married, on 01 July 1762, Anna ANDREWS, daughter of Samuel and Anna (RANKIN) ANDREWS, born 11 April 1747 At Worcester. At the time of her marriage she was an orphan and had inherited a considerable fortune. Her maternal grandparents were James and Rachel Rankin, immigrants from Ireland with the Scots Presbyterians of 1718. Her father Samuel Andrews established a tannery in Worcester, and built the Bigelow Mansion opposite Courthouse Square. See link below for Roll of Capt. Timothy Bigelow's Company
In the Colony Service
Bigelow Mountain in Maine, the same that he climbed, is named for Timothy; its possession is now disputed by both Whites and Indians.
see - article about the Monument at the foot of Bigelow Mountain in Maine.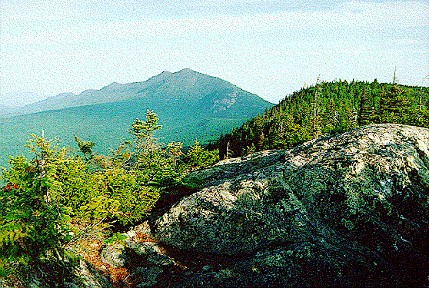 Bigelow Mountain and the Bigelow Range are along the Appalachian Trail. Below is some of the poetry found on the web by Lynn Jones <ljones94@shaw.ca>
http://www.nimblewillnomad.com/HTML/Poetry/Nature.htm
THE BIGELOWS [9-98]
The Bigelows of western Maine,
Are something to behold.
'twill take a chapter in my book,
A story yet untold.
I'll write about the mountains lush,
With birch and fir and spruce.
You'll read about the porcupine,
The beaver and the moose.
I'll write so vivid you will hear
The calling of the loon.
Across the silent, high-held ponds,
Pure diamonds in the moon.
You'll understand why *Percival
And †Myron loved this place.
I'll paint in words, a picture,
Of its majesty and grace.
And when you go to close the book,
And put it on the shelf—
BEWARE!
'twill haunt you till you've seen,
The Bigelows…yourself.
*PERCIVAL PROCTOR BAXTER 1876-1969—A native and former Governor of Maine, gave the land now known as Baxter State Park, location of Mt. Katahdin, to the people of Maine. Percival loved the Bigelows.
http://www.state.me.us/legis/senate/history/past/prespast/1921pb.htm
†MYRON HALIBURTON AVERY—1899-1952—A native/resident of Maine all his life. Myron most single-handedly built the Appalachian Trail. He, too, loved the Bigelows. A 4000-footer in the Bigelow Range is named in his honor.
http://www.patc.net/history/archive/avery.html
LITTLE BIGELOW [10-98]
I stand on Little Bigelow
In all its majesty.
While all around, vast wilderness
Is all that I can see.
Once lived a man who loved this more,
Than anyone I know.
Tears cloud my view of Avery Peak,
From Little Bigelow.


---
Subject:
Roll of Capt. Timothy Bigelow's Company In the Colony Service
,
on the Alarm of April 19, 1775.
Source: Worcester in the War of the Revolution - 1765 - 1783
by Albert Alonzo Lovell.
p.119
Roll of Capt. Timothy Bigelow's Company
Alarm of April 19, 1775.
Timothy Bigelow, Captain.
Jonas Hubbard, 1st Lieut.
John Smith, 2d Lieut.
William Gates, Sergeant.
Nathaniel Harrington, Sergeant
John Kanady.
William Dana.
John Pierce, Corporal.
Cyprian Stevens, Corporal.
Joel Smith, Corporal.
Nathaniel Heywood, Corporal.
Eli Putnam, Drummer.
Joseph Hair, Fifer.
Joseph Pierce, Fifer.
Privates.
Benjamin Bennett.
David Chadwick.
Eli Chapin.
Philip Donehue.
Benjamin Estabrook.
Josiah Flagg.
Phinehas Flagg.
Nathaniel Flagg.
Josiah Gates.
Thomas Gates.
Jonathan Gleason.
William Griggs.
Edward Hair.
Asa Harrington.
John Hall.
Artemas Knight.
John Knower.
Ephraim Miller.
William Miles.
Joseph Morse.
Jonas Nichols.
Solomon Smith.
Phinehas Ward.
Ebenezer Wiswall.
Josiah Pierce.
James Wiser.
Daniel Haven.
William Trowbridge.
John Cole.
Joseph Ball.
Jonathan Stone.
Samuel Wesson.
Thomas Nichols.
Thomas Knight.
Samuel Harrington.
Thomas Lynde.
Joseph Cunningham.
Robert Crawford.
Moses Hamilton.
Samuel Bennett.
Samuel Hemmenway.
William Walker.
Nicholas Powers.
Daniel Willington.
William Curtis.
William Treadwell.
Edward Swan.
Joseph Curtis.
Samuel Cook.
Samuel Duncan.
Asa Ward.
Elisha Fuller.
John Totman.
Joseph Thorp.
George Walker.
Thomas Drury.
Samuel Brown.
Adam Hemmenway.
James Taylor.
Joseph Miller.
Josiah Perry.
Major Timothy Bigelow was the son of Daniel Bigelow and lived in Worcester, Mass. On hearing
of the battle of Lexington, he marched at the head of the Minute Men. In all the fatigues,
perils and privations of Arnold's Expedition, he participated. At Quebec he was taken
prisoner. After his realease, he, at the head of the 15th Massachusetts Regiment, was at
Saratoga, Rhode Iland, Valley Forge and West Point. He was an original grantor of Mont-
pelier, and a liberal benefactor of the Leicester Academy. With an ardent temperament, his
manners were dignified and graceful. He died at Worcester, March 31, 1790, aged 50 years.
Major Bigelow was the father of Timothy Bigelow, who removed to Medford in 1807, and was
distinguished as a learned, eloquent and popular lawyer and for more than twenty years as a
member of the Legislature, eleven of which he served as Speaker of the House of
Representatives.
Subject: Timothy Bigelow
Source: Prescott Memorial by Dr. William H. Prescott, 1870, Concord, New Hampshire.
p.78
Lucy Prescott b. March 13, 1771, dau. of Dr. Oliver Prescott and his wife, Lydia Baldwin;
m. Sept. 30, 1791, Hon. Timothy Bigelow, son of Col. Timothy Bigelow of Worcester, who
commanded one of the Mass. regiments in the Revolutionary War. Hon. Timothy Bigelow was b. April 30, 1767; grad. Harvard Coll. 1786. Children:
1. Katherine Bigelow b. 1793 m. 1819 Hon. Abbott Lawrence of Boston.
2. Rev. Andrew Bigelow b. at Groton, May 7, 1795 m. 1824, Amelia Sargent Stanweed.
3. John Prescott Bigelow who m. an English lady, Louisa Brown.
4. Edward Bigelow born & died at Medford, Mass. 1838, unm.
5. Helen Bigelow.
6. Francis R. Bigelow a merchant of Boston.
7. Elizabeth Prescott Bigelow m. Henry Stevens a merchant of New York City.
Transcribed by Janice Farnsworth
Bigelow Monument.
Source: Dictionary of Worcester, Mass. by Franklin Pierce Rice.
p.11
Bibelow Monument.
On the Common. The beautiful monument of Italian marble was erected to mark the last
resting place of the distinguished Revolutionary patriot, Col. Timothy Bigelow, and was
presented to the City by his great-grandson, Timothy Bigelow Lawrence. It was publicly
dedicated April 19, 1861.
Transcribed by Janice Farnsworth
Tombstone.
Source: Epitaphs from the Cemetery of Worcester Common
Tombstone No. 237.
"Timothy Bigelow, Esq. commander of the 15th Massachusetts Regt. in the Revolutionary War with Great Britain; born August 12, 1739; died April 4, 1790 aged 50 yrs.
"Here lie his remains."
(He was an active and eloquent patriot of the Revolution, a member of the Worcester
Committee of Correspondence, of the famous "Whig Club," in which he was associated with
Warren, Otis, and other eminent individuals, a delegate in the Provincial Congress, and
filled many important offices with honor and ability.
Transcribed by Janice Farnsworth
---
Modified - 04/29/2007
(c) Copyright 2007 Bigelow Society, Inc. All rights reserved.
Rod Bigelow - Director
rodbigelow@netzero.net
---
Rod Bigelow (Roger Jon12 BIGELOW)
Box 13 Chazy Lake
Dannemora, N.Y. 12929

< rodbigelow@netzero.net >