Benjamin 5 BIGELOW
---
16C11 Benjamin 5 BIGELOW, son of Benjamin 4 (Eleazer 3 , Joshua2, John1), and Mary (WYMAN) BIGELOW, was born circa 1750's, place and date unknown. With his parents he lived in Portsmouth, NH where he was in business (Howe gives a date of 1798). He was head-of-household until the 1810 census, after which we find no further record of him, and his widow Salome is listed as head-of-household in 1820, then no more.
1790 census: NH-Rockingnam-Portsmouth-Benjamin Bigelow: 1-l-2-0-0.
From church and census records we list the following children of Benjamin and Salome (___) Bigelow:
16C11.l James, bapt 30 Nov 1788 Portsmouth, NH.
16C11.2 Mary Ann, b ___ 1792; bapt 11 Mar 1792 Portsmouth, NH; d 26 Apr 1806 Portsmouth, NH æ 14 Years ; buried in Old North cemetery, Portsmouth, NH; (see below)
16C11.3t Daniel Jackson, b ____ ; bapt 11 Mar 1792 Portsmouth, NH; d _____ ; newspaper issue of 1831 reports his death at age 40 in Portsmouth; m Adeline _____ . Adeline was admitted to the church at Portsmouth in 1832, and had 3 children bapt, but in 1850 she was living in Boston with her two sons, both single.
Sources:
Bigelow Family Genealogy Volume. I page.180-181;
Howe, Bigelow Family of America;
Portsmouth, NH church records;
census 1850;
newspaper death notices in Columbian Centinel;
early censuses of NH.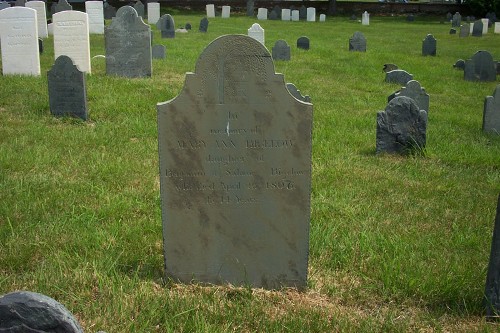 In
memory of
Mary Ann Bigelow
daughter of
Benjamin & Salome Bigelow
who died April 26, 1806
æ 14 Years.

---
Modified - 12/18/2005
(c) Copyright 2005 Bigelow Society, Inc. All rights reserved.
Rod Bigelow - Director
< rodbigelow@netzero.net >
---
Rod Bigelow (Roger Jon12 BIGELOW)
Box 13
Chazy Lake
Dannemora, N.Y. 12929

< rodbigelow@netzero.net >