Abijah 5 BIGELOW
Abijah Bigelow of Worcester, MA. Portrait Courtesy of American Antiquarian Society, Worcester, MA.
---
16C28 Abijah 5 BIGELOW, son of Elisha 4 (Eleazer 3 Joshua2, John1), and Sarah (GOODRIDGE) BIGELOW, was born 05 December 1775 at Westminster, MA. He graduated from Dartmouth College in 1795, studied law, and was admitted to the Massachusetts bar in 1798. He opened a law office in Leominster, and took an active part in town affairs. He served as town clerk for some years and represented the town in the General Court. He was elected to Congress and served two terms, beginning 1811. In 1817 he removed to Worcester, MA, was elected Clerk of the Courts, and remained in that position until 1833. He was a Federalist in his views. [American Antiquarian Society at Worcester has Abijah's portrait hanging in their headquarters, and has published his letters written from Washington D.C. during his tenure in Congress--these include a description of the burning of Washington in the War of 1812.]
Abijah married, on 08 April 1804, Hannah Gardner of Leominster, daughter of Francis S. and ___ (__)Gardner. She was born____ at Leominster, and died 21 April 1857. Abijah died at Worcester 05 April 1860.
Children of Abijah and Hannah (Gardner) Bigelow:
16C28.1 Sarah, b 21 May 1805 Leominster; d ____ 1886, Providence, RI?; m 29 May 1829 Seth Adams. 10 children (see below)
16C28.2t Francis Elisha, b 14 Jan 1807 Leominster; d 5 Sep 1880 Worcester, MA; m 6 Apr 1847 Elizabeth (Colton)
Larrabee. l child.
16C28.3 Susan, b 7 Apr l809 Leominster; d ____ 1883; m 10 Nov 1831 Dr. Charles C. Greene; res Windsor, VT.
16C28.4 daughter b and d 3l Dec 1810.
16C28.5 Hannah, b 22 Mar 1812 Leominster; d 7 July 1874, place not stated; unmarried.
16C28.6 Abijah, b 14 Feb 1814 Leominster; d 27 Apr 1817.
16C28.7 Elizabeth, b 23 May 1815 Leominster; d 22 Feb 1838 Worcester, MA; unmarried.
16C28.8 Lucinda Gardner, b 19 Mar 1817; d 19 Dec 1875; unmarried.

16C28.9 Anne Gardner, b 8 Dec 1818 Worcester, MA; d l7 Jan 1875; unmarried.
16C28.A Mary, b 26 Feb 1821 Worcester, MA; died 17 Mar 1872; unmarried.
Sources:
Bigelow Family Genealogy Volume. I page.182;
Howe, Bigelow Family of America;
1850 census MA;

Proceedings of American Antiquarian Society, vol.40., Apr-Oct 1930.
Abijah Bigelow, a 1795 graduate of Dartmouth College, was a lawyer and politician who lived in Leominster and Worcester, Massachusetts. A Federalist representative to Congress from 1800 to 1815, he strongly opposed the War of 1812. Letters from Bigelow while he was serving in Washington, D.C., reveal a man with strong interest in family and civic issues. He described the actions and debates of Congress to his wife Hannah Gardner Bigelow (1780-1857) and his frustration by the American political system. On one occasion he wrote, 'We have no news of importance, the same routine of business in Congress, the same blustering against Great Britain, the same talk of war, and at the close they will rise with doing as little good and as much mischief as usual.'(1) Later he wrote, '[A]s the federalists have declined taking any part whatever in the debate about raising an army, the democrats begin to falter.... The great difficulty is raising taxes. They dare not do it. They are too cunning to risk their popularity by a land tax, loans &c. When they raise the taxes necessary to carry on a war, I shall think them in earnest, not before.'(2)
After he retired from Congress, Bigelow settled in Worcester and became involved in local government, serving as a justice of the peace and clerk of the courts in that city. Elected a member of the American Antiquarian Society in 1813, Bigelow was also a Councillor of the Society from 1817 to 1828. An author and poet, he submitted his work to Worcester newspapers throughout his life. Six essays titled 'Political Reflections,' were published by the Massachusetts Spy in January and February of 1812, and a series of articles on slavery which he signed 'A Layman' was printed in the Worcester Palladium in January and February of 1838.(3) In 1853, after his retirement from law and political service, the seventy-seven-year-old Bigelow and his ailing wife visited their daughter Sarah Bigelow Adams (1805-86) in Providence, Rhode Island, where their portraits were painted by the artist James Sullivan Lincoln.
Lincoln, who apprenticed as an engraver, started painting portraits around 1837 and by the 1850s was the leading portrait painter in Providence.(4) Although he also painted miniatures and landscapes, his most significant commissions were his portraits of the state's governors, senators, and leading businessmen of the city. For fifty-one years Lincoln kept a record book of his portrait commissions, which, after 1860, also included painted photographs.(5) Late in life, Lincoln was elected the first president of the Providence Art Club and, at a retrospective exhibition of his work, he was titled 'the father of art in Providence.'(6)
--------------------------------------------------------------------------------
1) December 18, 1811. Bigelow Family Papers, 1785-c. 1883, American Antiquarian Society Manuscript Collection. Several of Bigelow's letters are published in Clarence S. Brigham, 'Letters of Abijah Bigelow, Member of Congress to his Wife 1810-1815,' Proceedings of the American Antiquarian Society 40 (October 1930): 305-406.
2) Abijah Bigelow to Hannah Gardner Bigelow, January 1, 1812, quoted in Brigham, 'Letters of Abijah Bigelow, Member of Congress, to his Wife, ' 322-23.
3) Ibid, 307.
4) Franklin C. Clark, 'A Sketch of the Artist's Life,' Catalogue of the Memorial Exhibition of the Works of James Sullivan Lincoln (Providence, R.I.: Providence Art Club, 1888), 4-5.
5) "List of Portraits by J. S. Lincoln Painted Since AD 1837," James Sullivan Lincoln Papers, Rhode Island Historical Society. The portraits of Bigelow, his wife, and an image of his daughter Sarah Adams are all listed in the entries for October 1853. They were listed as 'for Seth Adams,' Sarah's husband. The current location of the portraits of Mrs. Bigelow and her daughter are unknown.
6) Clark, 'Sketch of the Artist's Life,' 13.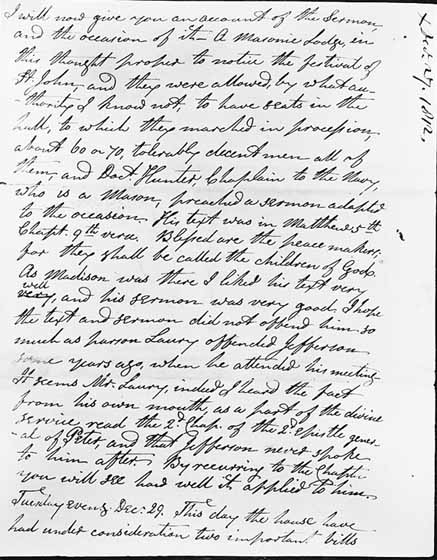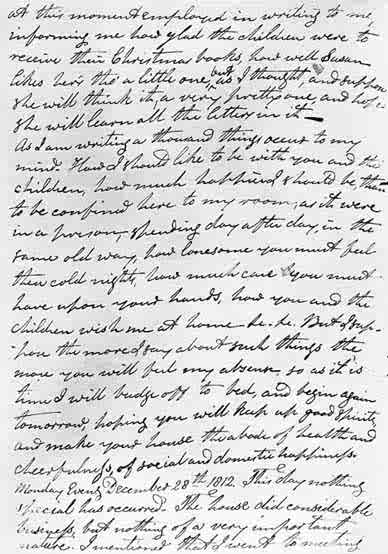 Letters
Madison Seen at House Church Service
Abijah Bigelow
, a Federalist congressman from Massachusetts, describes President James Madison at a church service in the House on
December 27, 1812, as well as an incident that had occurred when Jefferson was in attendance some years earlier.
---
Subject: 16C28.1 Sarah, b 21 May 1805
Date: Thu, 12 Jun 2008 09:30:53 -0400
From:
"Scott Barker" <sbarker3@ptd.net>
Rod,
1850 census
http://content.ancestry.com/iexec/?htx=View&r=an&dbid=8054&iid=RIM432_844-0251&fn=Sarah&ln=Adams&st=r&ssrc=&pid=12449142
1860 census
http://content.ancestry.com/iexec/?htx=View&r=an&dbid=7667&iid=RIM653_1210-0012&fn=Sarah&ln=Adams&st=r&ssrc=&pid=35116257
1870 census
http://content.ancestry.com/iexec/?htx=View&r=an&dbid=7163&iid=RIM593_1478-0310&fn=Sarah&ln=Adams&st=r&ssrc=&pid=42181273
1880 census
http://content.ancestry.com/iexec/?htx=View&r=an&dbid=6742&iid=RIT9_1211-0619&fn=Sarah+B.&ln=Adams&st=r&ssrc=&pid=44459226
measuring worth
http://www.measuringworth.com/calculators/uscompare/result.php
Sarah, b 21 May 1805 was living with her daughter and son-in-law Harriet A & Charles Henshaw in Providence RI so it is reasonable that she died in
Providence. Seth Adams died at some time between the 1860 and 1870 census. The children of Seth and Sarah Bigelow Adams were all born in
Providence, Rhode Island and they are:
Seth b. 1823
Elizabeth b. 1831
George b. 1835
Hannah b. 1836
John b. 1837
Frank b. 1840
Harriet A. Adams
, b ___ 1841; d ____ ;
Harriet A Adams married abt 1870 Charles H Henshaw (see below)
Charles b. 1843
Susan b. 1844
Bigelow b. 1851
The 1860 census lists Seth's occupation as a Flour Dealer with real estate valued at $252,000 and personal estate worth $130,000.
The total combined worth in 2007 dollars according to "measuring worth" is approx. $9,826,878.
Subject: Harriet Adams b. 1841 RI, daughter of Seth and Sarah Bigelow Adams
Date: Thu, 12 Jun 2008 11:17:54 -0400
From:
"Scott Barker" <sbarker3@ptd.net>
Rod,
1880 census
http://content.ancestry.com/iexec/?htx=View&r=an&dbid=6742&iid=RIT9_1211-0619&fn=Chas.+H.&ln=Henshaw&st=r&ssrc=&pid=22285657
1900 census
http://content.ancestry.com/iexec/?htx=View&r=an&dbid=7602&iid=RIT623_1506-0197&fn=Charles+H&ln=Henshaw&st=r&ssrc=&pid=69170400
The census records above note that Harriet A Adams married abt 1870 Charles H Henshaw who was b. 1832 in Maryland. The couple were both
listed in Providence Ward 1, Providence, Rhode Island census and other family trees have them both deceased between 1910 and 1920. The children
of Charles H and Harriet Adams Henshaw were all born in Providence, Rhode Island and are:
Harriet F b. 1873 Unmarried and living with sister Anne B. at time of 1930 census
Stanley b. 1874
Anne B b. 1882 Unmarried and living with sister Harriet F. at time of 1930 census
Passport Application
http://content.ancestry.com/iexec/?htx=View&r=an&dbid=1174&iid=USM1490_247-0172&fn=Stanley&ln=Henshaw&st=r&ssrc=&pid=812046
1920 census
http://content.ancestry.com/iexec/?htx=View&r=an&dbid=6061&iid=MST625_899-0259&fn=Stanley&ln=Henshaw&st=r&ssrc=&pid=107285142
According to the two above records, between 1910 and 1920 Stanley Henshaw married Eve___________ (passport application) and she died prior to 1920
census where Stanley is listed as widowed. They had the following child:
Stanley b. 1913 in Mississippi
Stanley Sr. married secondly married Margarite P ___________ who was previously married to ____________ Whitney. She was b. 1885 in
Massachusetts and with her previous husband had the following two known children:
Morgan Whitney b. 1910 in Louisianna
Elice Whitney b. 1914 in Louisianna
---
Modified - 06/12/2008
(c) Copyright 2008 Bigelow Society, Inc. All rights reserved.
Rod Bigelow - Director
rodbigelow@netzero.net
---
Rod Bigelow (Roger Jon12 BIGELOW)
Box 13 Chazy Lake
Dannemora, N.Y. 12929

rodbigelow@netzero.net

BACK TO THE BIGELOW SOCIETY PAGE

BACK TO BIGELOW HOME PAGE