Striped Parrotfish
This is a Striped Parrotfish about 9 inches. Photo by Rod 20 Feb 04 in about 20 feet water.
Location was Pickles Reef; Key Largo.
Scarus iserti
Adult has dark green or green tail, with pink, yellow, or orangish linear markings between borders; Gold to yellow spot or stripe above and behind pectoral fin; Juvenile (below) has yellow smudge on nose; The Princess Parrotfish juvenile is very similar;

I reduced picture size so they would be visible on your screen. Just click on thumbnail for 6 x 4 picture, and name for 10 x 8 full size picture or more info.

Size: 8-9 inches; max 10 inches;
Audubon Field Guide; page 619; plate 355;
Reef Fish ID 3rd ed.; page 200-201; plate 200-201;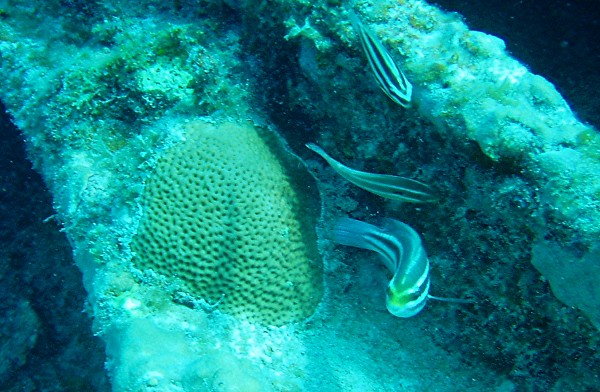 This is a Juvenile Striped Parrotfish about 3 inches. Photo by Rod 22 Mar 04 in about 30 feet water.
Location was The Benwood Wreck; Key Largo.
---
Rod Bigelow
P.O. Box 13 Chazy Lake
Dannemora, N.Y. 12929

< rodbigelow@netzero.net >