Greater Soapfish

This is a Greater Soapfish about 8 inches. Photo by Rod 22 Feb 04 in about 20 feet water.
Location was North-North Dry Rocks, Key Largo.

Rypticus saponaceus
Pointed head with upturned mouth.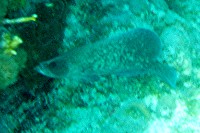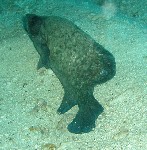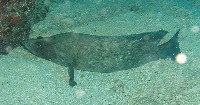 soapf22115.jpg soapf92.jpg soapf93c.jpg

I reduced picture size so they would be visible on your screen. Just click on thumbnail for 6 x 4 picture, and name for 10 x 8 full size picture or more info. Photo at top so-so because of poor water visibility.
soapf92c.jpg and soapf93c.jpg is a sick or injured Greater Soapfish photos at Christmas Tree-French Reef 03/22/04;
Audubon Field Guide; page 455; plate 173;
Reef Fish ID 3rd ed.; page 186-187 plate 187;
Size: 5-9 inches; max 13 inches
Depth: 15-60 feet;

---
Rod Bigelow
P.O. Box 13 Chazy Lake
Dannemora, N.Y. 12929

< rodbigelow@netzero.net >

BACK TO FISH PAGE