Susannah 3 BIGELOW
---
144 Susannah 3 BIGELOW, fourth child and third daughter of Daniel 2, (John 1), and Abiel (PRATT) BIGELOW, was born in Framingham, Middlesex co, MA on 04 March 1696. She married on 09 June 1715 Stephen JENNINGS, son of Stephen and Hannah (STANHOPE) JENNINGS. He was born 1688, and died in Framingham 08 October 1763. Susannah was admitted to the church at Framingham Feb 1749. She died 24 October 1768. They had the following, all born Framingham:

1441 Stephen Jennings, b 6 Sept 1716; d 06 Jan 1798 Sudbury; m 5 July 1737 Mary FESSENDEN of Cambridge; res Sudbury & Natick; Children all born Natick except one:
a. Sarah, b 23 July 1738.
b. John, b 06 June 1740.
c. Jabez, b 09 Apr 1742.
d. Mary, b 07 Apr 1744.
e. Stephen, b 12 Mar 1746.
f. Martha, b 04 May 1748; m Samuel ABBOTT of Framingham.
g. Luther, b 26 Oct 1750.
h. Lois, b 10 July 1752.
i. Isaac, b 17 July 1755 at Sudbury.
j. Molly, b 01 Nov 1760 at Natick.

1442 Daniel Jennings, b 16 Feb 1718; m 1737 Elizabeth COZZENS of Hollister, res Walpole. Children:
a. Daniel.
b. Martha, b 1748.
c. Patience, b 1753.
d. Susannah, b 1761.
e. Abigail, b 1763..
f. and several children who died young.

1443 Ephraim Jennings, b 27 May 1720; m 1743 Sybilla RICE; res Natick; Children:
a. Samuel, b 07 Mar 1744.
b. Isaac, b 28 Feb 1747.
c. Ephraim, b 06 Sept 1749.
d. Sybil, b 28 Oct 1752.
e. Olive, b 06 Sept 1756.
f. Levinah, b 07 Nov 1759.
g. Eethel, b 18 Aug 1765.

1444 Susannah Jennings, b 9 may 1722; d 15 Sept 1750 Framingham; m 2 dec 1742 Bezaleel RICE, b 19 May 1721 Framingham, son of Bezaleel and Sarah (BUCKMINSTER) RICE; he m (2) Sarah BENT; res Framingham; children by first wife Susannah:
a. Bezaleel, b 11 Apr 1744; d 10 Aug 1748.
b. Hezekiah, b 02 Oct 1745; m Abigail EAMES.
c. Susannah, b 06 July 1748; m Ezra TWITCHEL.
d. Sarah, b 05 Sept 1750; m __ BREWER.

1445 Abigail Jennings, b 28 Aug 1724; m 29 May 1746 Joseph MAYNARD, son of Jonathan and Mehetabel (NEEDHAM) MAYNARD, b 20 Nov 1725, d Whitestown, NY;
Children:
a. Mehetabel, b 28 May 1747; m Caleb WINCH; res Fitzwilliam, NH.
b. Susannah, b 22 Oct 1748; m __ & d in Fitzwilliam.
c. Joseph, b 17 May 1750; m Deborah TWITCHELL.
d. Abigail, b 02 Dec 1751; m & d Fitzwilliam.
e. John Maynard, Capt., b 14 May 1753; m 25 Oct 1785 Martha WILDER; res Lancaster, MA.(see below)
f. Needham, b 15 Aug 1755; m Hitty EAMES; res Whitestown, NY.
g. Sarah, b 28 Mar 1757; m Mattias FELTON; res Fitzwilliam.
h. Hannah, b 02 Apr 1759; m Ephraim HOWE; res Marlborough.
i. Elizabeth, b 24 Apr 1761; m Jason WINCH; res Fitzwilliam.
j. Anne, b 04 May 1763; m Nathaniel POLLY; res Sherburne.
k. Martha, b 31 Mar 1765; m _ Dec 1785 Isaac HEMENWAY; res Whitestown, NY.

1446 Joseph Jennings, b 07 Mar 1727; m 23 Jan 1752 Rachel DRURY, b 7 Feb 1729, daughter of Uriah and Martha (EAMES) DRURY; children:
a. Martha, b 14 Dec 1752; d 1834; m (1) Samuel ABBOTT; (2) Noah EATON.
b. Susannah, b 22 Apr 1755; m Nathaniel BIGELOW 16136. 4 children.
c. Joseph, b 24 Oct 1757.
d. Rachel, b 18 Dec 1759; m Abijah ABBOTT; res Paxton.
e. Uriah, b 26 Apr 1762; m Dec 1790 Ruth CLOYES; res Whitestown, NY.
f. Daniel Jennings, b 24 Dec 1764; m twice; m (1) Bathsheba CARTER; m (2) Hannah Hill; (see below).
g. Hannah, b 23 Oct 1769; m July 1786 Buckminister WAYLAND; she died at Wayland, MA.

Source:
Bigelow Family Genealogy, Vol I page 24-25;
Howe, Bigelow Family of America;
Barry, History of Framingham;
Note: Stephen's daughter Martha b 1748, and joseph's daughter Martha, b 1752, are both alleged to have married Samuel ABBOTT, and there is an error within. Big Soc. opinion that ABBOT's wife was daughter of Joseph JENNINGS.


Note 12/08/06:
From: RJLAVIN@aol.com
I notice that you have my mother and aunt in a picture ...
Dates for following people you mention are:

Amanda Jennings Feb 14, 1828 born Hopkinton; died Oct 8, 1862 (see below)
married George Macker; they were living in Northbridge MA at the time of the marriage

their daughter
Amanda J Macker born 9 July 1847; died sometime after 1920; married 14 Aug 1864 Reuben Greene ;
(he being born 17 Oct 1830 in Douglas MA; his death being recorded 1891 in Douglas MA (Massachusetts archives microfilm # 420: 519)

Their son
Embert Reuben Greene born 16 Sept 1864; in Blackstone ma (MA microfilm 179:140)
and his death recorded in East Providence Rhode Island

Their daughter was married twice as you record; her second marriage was to Javan Everett Ballou; (children of this marriage were Arthur, Ethel, and James)

---
14466 Daniel Jennings, b 24 Dec 1764; m twice; m (1) Bathsheba CARTER; m (2) Hannah Hill;
The Bigelow Society usually does not go this far with the female line, but we have received information in April 2006 that allows us to do this at this time.
Child of Daniel and Hannah (Hill) Jennings:
a. Amanda Jennings, b 14 Feb 1828 Hopkinton; d 08 Oct 1862; m George Macker; res Northbridge, MA;
Child of George and Amanda (Jennings) Macker:
i . Amanda J. Macker, b 09 July 1847; d after 1920; m 14 Aug 1864 Reuben Greene, jr; (he b 17 Oct 1830 Douglas, MA; d 1891 Douglas)
Child of Reuben and Amanda (Macker) Greene:
a. Embert Reuben Greene, b 16 Sept 1864; d ___ 1940 East Providence, RI; m (1) Miranda Freelove Trask (see below) she died 1893; Embert m (2) 1900 Annie Arthur;
Children of Embert and Amanda (Trask) Greene:
i. "Minnie" L. Greene, b __ 1885? ; d ____ ; m 1900 Joseph Payne; ("Minnie" was married to Javan Everett Ballou secondly with children: James, Ethel (d 2005) and Arthur Ballonor Ballou)
Children of Joseph and "Minnie" (Greene) Payne:
a. Mabel Aurella Payne, b 07 Nov 1904; d _ Apr 2005; age 100 yrs, 6 mos; m 1925 Clarence L. Sanders; res MA; (see below)
b. Elizabeth Payne, b ____ ; d ____ ; m 1920 Pat Quirk; res. Mendon, MA; (picture below)

ii. Bertha Greene, b ____ ; d ____ ; (may be Louella in picture below and unmarried)

Trask Notes:
Amanda Freelove Trask, was the daughter of George and Susan (Hardy) Trask; George Trask died ca 1922 in Maine.
George and Susan (Hardy) Trask, also had a son William Trask, wife unknown; 2 children: Doris and Harold?

Mabel Aurella Payne, b 07 November 1904 Smithfield, , RI; d _ April 2005; age 100 yrs, 6 mos; m 1925 Clarence L. Sanders; res MA; (see below)
Children of Clarence and Mabel (Payne) Sanders:
1. Leland Joseph Sanders, b _____ ; d ___ 1980 ;
2. Phoebe Ann Sanders, b 06 June 1933 Wilmington, NY; d _____ ; m Clifford L. Morris (Clifford died 1963); 6 children: David, Linda, Lee, Randy, Kathy, and Rick Morris; (Phoebe married second _____ Glaze)
3. Clare Lavina Sanders, b _____ ; d _____ ; m ____ Sears; res. St. Petersburg, FL
4. James Leroy Sanders, b _____ ; d ___ 1984; 2 children; 1 grandchild;
5. Mabel Eunice Sanders, b _____ ; d _____ ; m ____ Adams;
6. Florence Elizabeth Sanders, b _____ ; d _____ ; m ____ Hightower;
7. Jean Edith Sanders, b _____ ; d _____ ;
8. Robert Walters Sanders, b _____ ; d _____ ; res. NY 1 child;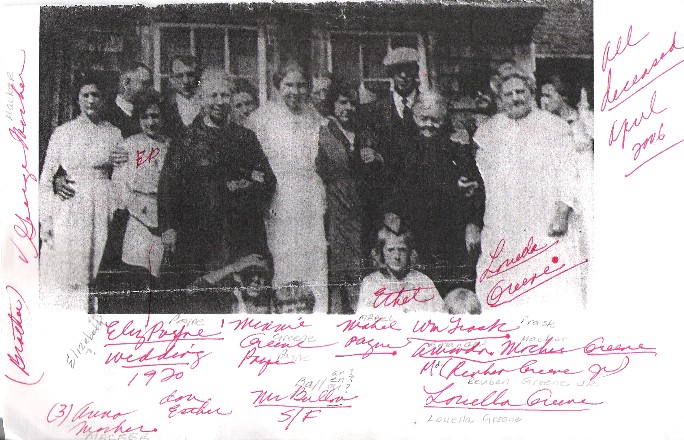 Notes on photo by Ann Glaze (glaze1.jpg = full size)
Info and picture received from Ann Glaze 7819 Whitsett Ave., N. Hollywood, California 91605-2205 on 22 Apr 2006.

---
Note: 12/09/06:
Abigail Jennings, b 28 Aug 1724; m 29 May 1746 Joseph MAYNARD, son of Jonathan and Mehetabel (NEEDHAM) MAYNARD, b 20 Nov 1725, d Whitestown, NY; Children:

Joseph Maynard

a. Mehetabel, b 28 May 1747; m Caleb WINCH; res Fitzwilliam, NH.
b. Susannah, b 22 Oct 1748; m __ & d in Fitzwilliam.
c. Joseph, b 17 May 1750; m Deborah TWITCHELL.
d. Abigail, b 02 Dec 1751; m & d Fitzwilliam.
e. John, b 14 May 1753; m Martha WILDER; res Lancaster, MA.

~~~~~~~~~~~~~~~~~~~~~~~~~~~~~~~~~~~~~~~~~~~~~~~~~~~~~~~~~~~~~~

The Birth, Marriage and Death Register, Church Records and Epitaphs of Lancaster,
Mass., 1643 - 1850 by Henry S. Nourse, A.M., Lancaster, 1890.
p.127
In 1785.
October 25, 1785, Capt. John Maynard of Framingham and Martha Wilder
of Lancaster, were married.
Transcribed by Janice Farnsworth

The History of Lancaster by Rev. Abijah P. Marvin, Lancaster, 1879,
p.329 - Prominent men of Lancaster.
In 1782, among the following men who were Moderators, was John Maynard.

p.352
Building committee - June, 1790, for a Latin Grammar School
Deacon Cyrus Fairbank, Captain John Maynard & Mr. Jonas Lane.

p.739
Judge Joseph Wilder was the son of the first Judge Joseph Wilder. He lived here,
and owned the Ponakin Mills and had a son named Gardner Wilder, known as
Major Gardner Wilder, who owned the large house on Ballard Hill, now occupied by the family
of the late Mr. Noah Worcester. Capt. John Maynard was son-in-law to the Major and had
the two mills in right of his wife.
Transcribed by Janice Farnsworth
Tuesday 08/05/2008 1:19:22pm
Name: Cindy Sanders
E-Mail: sunlyonesse@bellsouth.net
Location: Georgia
Comments: I have more information on the entry for Mabel Aurelia Payne. I am a grandaughter.

---
Rod Bigelow
Box 13 Chazy Lake
Dannemora, N.Y. 12929

rodbigelow@netzero.net