Spotted Eagle Ray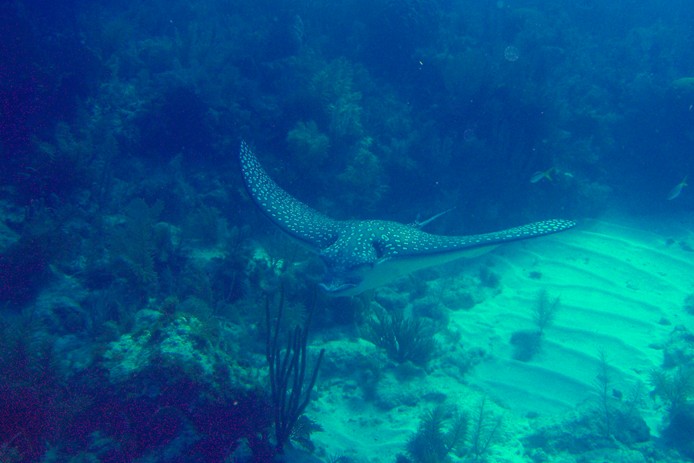 This is a Spotted Eagle Ray. Photo by Rod (full size picture)
taken at North-North Dry Rocks, Key Largo, FL 17 March 2009.
Video
Aetobatus narinari
Features: 1: Numerous white spots and circular markings over dark back. White underside. Pronounced head with flattened, tapered snout. Long thin tail with one to five venomous spines at base.
* size refers to wing-tip to wing-tip. Specimin above appeared to be about 6 feet across.

Size: 4 - 6 1/2 feet; max 8 feet;
Depth: 6-80 feet;
Audubon Field Guide; page 293; plate 62;
Reef Fish ID 3rd ed; page 460-461; plate 461;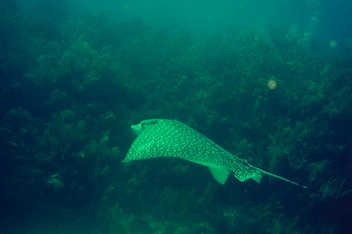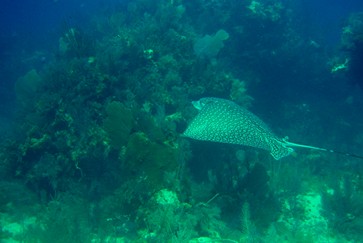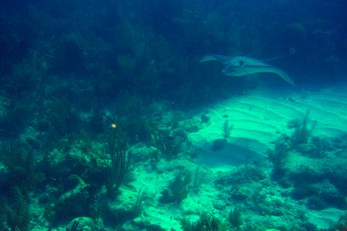 (full size) (full size) (full size)

---
Rod Bigelow
Box 13 Chazy Lake
Dannemora, N.Y. 12929

< rodbigelow@netzero.net >