Great Hammerhead Shark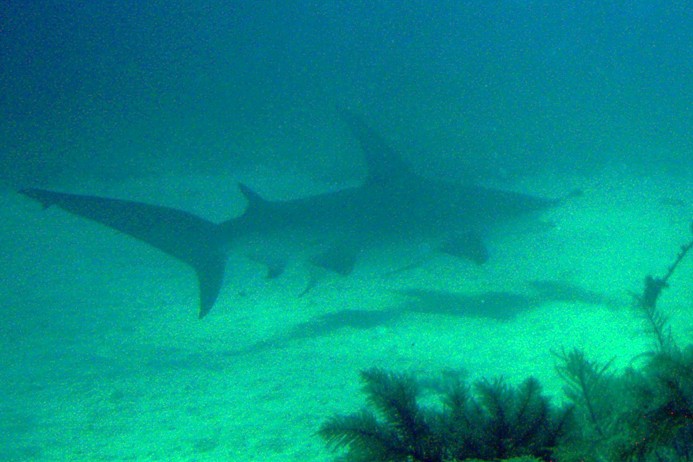 (full size)
This is a Great Hammerhead Shark about 8-9 feet. Photo by Rod 23 Feb 2007.

Location , Banana Reef, Key Largo in about 40 feet water.

Sphyma mokarran

Features:
Description: Gray with pale underside; small eyes;
Notes: Notice the large dorsal fin, which separates it from the Scalloped Hammerhead; uncommon on reef, usually oceanic.

Audubon Field Guide; page 277; plate 47;
Reef Fish ID, 3rd edition; page 450-451; plate 451;
Size: 5-14 feet; max 20 feet;
Depth: 10-200 feet;
More Sources:
http://en.wikipedia.org/wiki/Sphyrna_mokarran
http://www.geocities.com/RainForest/Andes/1151/
http://www.isidore-of-seville.com/hammerhead/3.html


Video was taken on 23 Feb 2007; same as still above
Hammerhead Shark Video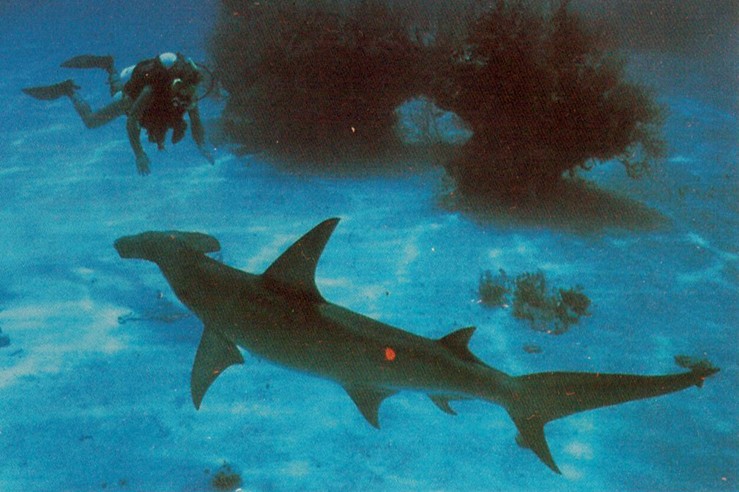 Great Hammerhead Shark (Bahamas)

---
Rod Bigelow
Box 13 Chazy Lake
Dannemora, N.Y. 12929

< rodbigelow@netzero.net >