Tobaccofish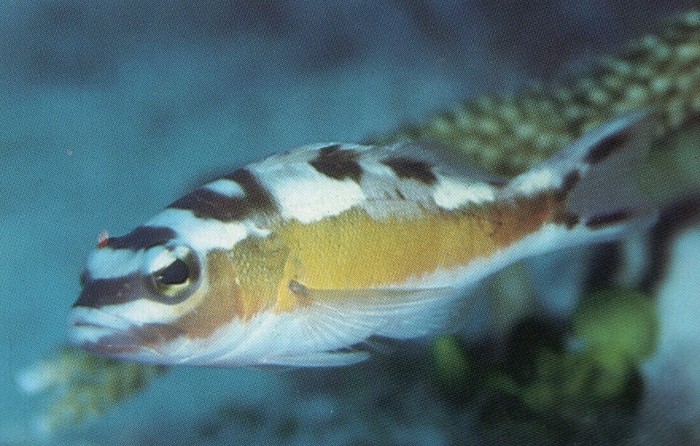 Plate 179
Serranus tabacarius

1. Midbody is shades of orange to brown (tobacco color). 2. Dark "U-shaped" border on tail.

Alternating series of dark and white to yellow or salmon blotches along back. Belly white. Juvenile markings tend to be more distinct.
Common to occasional South Florida, Florida Keys, Bahamas, Caribbean; also Bermuda and south to Brazil.
Inhabit adjacent areas of sand and coral rubble. Tend to stay near bottom. Unconcerned; usually allow slow, non-threatening approaches.
I reduced picture size so they would be visible on your screen. Just click on thumbnail for 6 x 4 picture, and name for 10 x 8 full size picture or more info. Key Largo.
Size: 3- 4 1/2 in.; max 7 in;
Depth: 3-225 feet;
Audubon Field Guide; page 439; plate 151;
Reef Fish ID 3rd ed; page 178-179; plate 179;
Reef Fish ID; page 112-113; plate 113;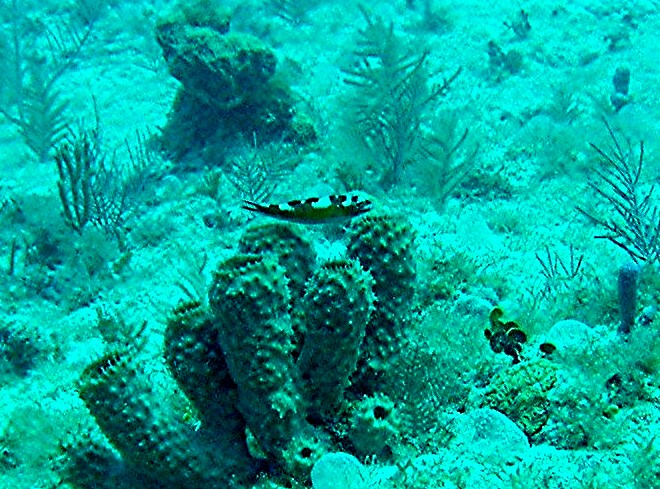 The above photo was taken at
Carysfort Lighthouse,
Key Largo, FL on 03/31/2004............ROD
---
Rod Bigelow
Box 13 Chazy Lake
Dannemora, N.Y. 12929


< rodbigelow@netzero.net >