Red Grouper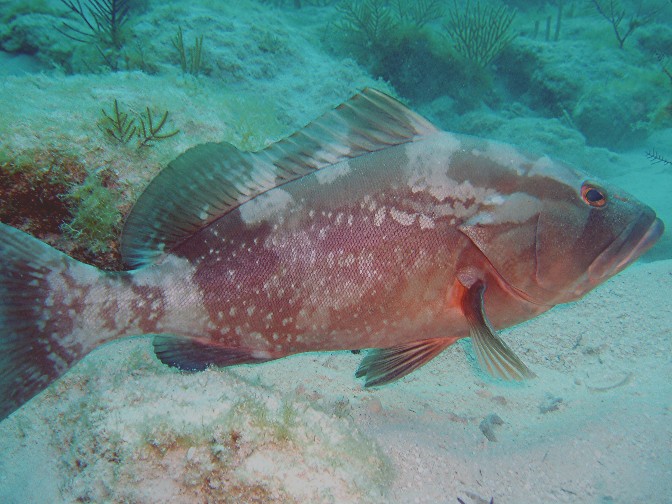 This appears is a Red Grouper. Photo by Rod 19 March 06 in about 20 feet water.

1. Foredorsal fin has smooth, straight edge (not notched). No saddle spot at base of tail (compare to similar Nassau Grouper; E. striatus)
Moderate size, robust, somewhat compressed grouper. Reddish brown overall, slightly lighter below, with some very small black spots on side of head, and often with pale saddles on back below dorsal fin and irregular pale blotches on side of body.

I reduced picture size so they would be visible on your screen. Just click on thumbnail for 6 x 4 picture, and name for 10 x 8 full size picture or more info. Pictures are from The Statue, Key Largo Dry Rocks, Key Largo. Another 2004 picture at redgroup153.htm.............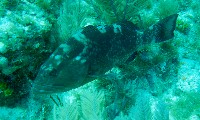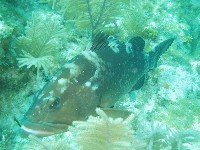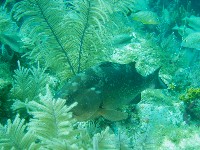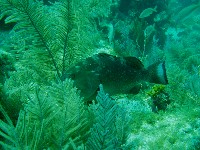 redgru1.jpg redgru2.jpg redgru3.jpg redgru4.jpg

3 thumbnails below are from North-North Dry Rocks, Key Largo; 19 March 2006: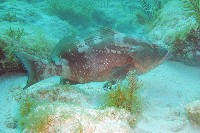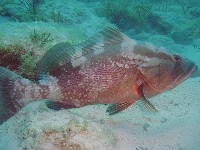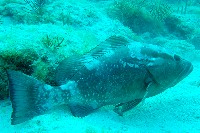 redgr62.jpg redgr63.jpg above redgr64.jpg

Size: 1-2 feet; max 3 feet;
Depth: 6-400 feet;
Audubon Field Guide; page 446; plate 161;
Reef Fish ID 3rd ed; page 153-154 plate 153-154;


This appears to be a Red Grouper. Photo by Rod 23 Feb 05 in about 20 feet water.

Location: The Statue, Key Largo Dry Rocks, Key Largo
---
Rod Bigelow
P.O. Box 13 Chazy Lake
Dannemora, N.Y. 12929

< rodbigelow@netzero.net >