Yellowhead Wrasse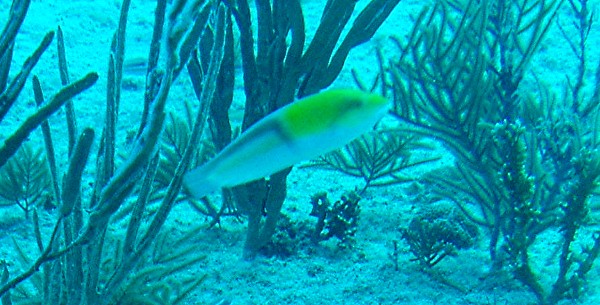 This is a Yellowhead Wrasse about 5 inches. Photo by Rod 08 Mar 04 in about 20 feet water.
Location was The Benwood Wreck; Key Largo.
Halichoeres garnoti
Features: Intermediate: Two wavy lines radiate from rear upper eye;Yellow head and forebody; Dark midbody bar; Picture above appears to be young transitional phase

I reduced picture size so they would be visible on your screen. Just click on thumbnail for 6 x 4 picture, and name for 10 x 8 full size picture or more info.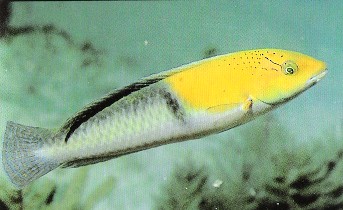 plate 292 (yelhd292.jpg)
Size: 5-6 inches; max 8 inches;
Audubon Field Guide; page 566; plate 292;
Reef Fish ID 3rd ed.; page 218-219; plate 218-219;
Exotic TFH; f-388.10; 388.11;
Baha 458;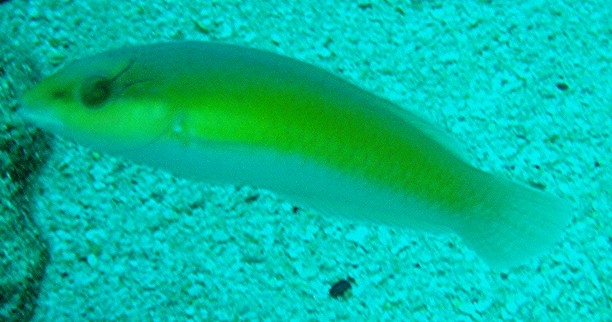 This is a JuvenileYellowhead Wrasse about 3 inches. Photo by Rod 11 Feb 2006 in about 20 feet water.
Location was The City of Washington Wreck; Key Largo. (full size)
__________________________________________________________________________
Rod Bigelow
Box 13 Chazy Lake
Dannemora, N.Y. 12929

< rodbigelow@netzero.net >