The Bigelow Shoebrush
Can You Help Identify it?
---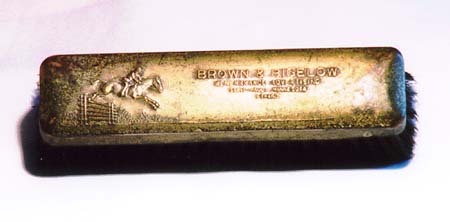 "BROWN & BIGELOW
REMEMBRANCE ADVERTISING
SAINT PAUL, MINNESOTA
67-450
Brush measures 6 inches long, by 1 1/2 inches wide. Top is Brass


The Shoebrush shown above was found by Debra Rivera while hunting for Bigelow Antiques. The Following is her story:
"About the shoebrush, I was in an antique store in Conroe Texas just looking around. There was a back section blocked off because the owner for that site was not in. Well you know me *LOL* I went over the rope and in a very small curio glass box, I saw the shoebrush. All I could see was Brown & Big.....

I asked the owner of the store to open it up and there was BIGELOW. The owner said she had never seen the brush before but would sell it to me. And as they story goes, you have it : )"
Nothing on the Brush indicates the date it was produced or the reason why., however, Brown & Bigelow is still in business and still producing many items for Sale.

The following message from Mel Prestamo, salesman for B&B identified the Brown & Bigelow address.
"The B&B corporate address is: 345 Plato Blvd. East, St. Paul, MN 55107.

I have written to the Company asking if they could help with further identification of the Brush, but if anyone one has information about the Brush or the Bigelow Family associated with the company ---please E-mail me, and I'll include everything found in this section
More Brown and Bigelow Stuff........................brownbig.htm

From the Forge Volume 3, No. 2 page 25 comes the following information.

BROWN AND BIGELOW
Halfway between Minneapolis and St. Paul is a forty acre tract of land originally called Quality Park by its owner. It houses a three story building of brick, granite, and glass built in 1913, and is the home of Brown and Bigelow, the worlds largest company manufacturing advertising specialities.

Although founded as early as 1896 by a Vermont - born Bigelow, the company did not achieve world-wide fame until its printing of a calendar featuring an unclothed movie starlet named Marilyn Monroe (who received $50 as a modeling fee from the photographer).

Millions of copies of that calendar were sold in a decade, but it was not Brown and Bigelow's first pin-up calendar. Their first art calendar was in 1913 and featured "Colette", a portrait painting by Angelo Asti. The craze for pin-up calendars has long passed, and a company spokesman, in a recent news interview, commented that scenic, and wildlife calendars are their best sellers.

Brown and Bigelow is not limited to calendar printing. They produce a full line of advertising specialities. For instance, Bigelow Society has a small;; lady's purse-mirror imprinted by Brown and Bigelow, and Mrs. Robert Dibble (Faye Bigelow) of Grand Rapids, Michigan donated two plotters with 1935 calendars, also labeled Brown & Bigelow. We also note that the company holds U.S. and Canadian patents for a desk-memorandum device, among other things.

The company's founder and chief officer until his death in 1934 was Herbert 9 Huse Bigelow, a man of frugal tasted and hard-working habits who is said to have worn twenty-five dollar suits when he was three times a millionaire.

He was born 18 May 1870 in Blooksfield, Orange county, Vermont, the son of Andrew 8 and Celestia (Huse) Bigelow (Zelotes 7, Zelotes 6, Daniel 5, David 4, Lt. John 3, Joshua 2, John 1). The oldest of three children, he was to lose his father while only four years of age. Some years later the family moved to Iowa. Herbert received his early education in Vermont and Iowa schools. He worked his way through Grinnell College in Iowa by selling, during vacations, the book "In Darkest Africa" by Henry Stanley, "Review of Review" magazine, and calendars for a company based in Red Oak, Iowa.

The year 1894 saw Bigelow married to Nina Penny of Fullerton, Nebraska, where Herbert briefly had an interest in a lumber yard. They went on a honeymoon to the Black Hill, but Bigelow prudently stocked up on calendars along the way.

He continued in this business until he met a St. Paul printer named Hirm Brown. The two men shortly came to a business agreement, and organized as Brown and Bigelow, with Brown investing $3000 and Bigelow investing $1500. Brown was never active in the business, and died in 1905. Bigelow's wife Nina having died in 1897, he then married Mrs. Frances Gillette, a widow, and her son Leon was adopted by Bigelow.

Brown and Bigelow expanded rapidly, constantly seeking larger quarters, until by 1904 it employed over 400 persons. It was shortly after this that Bigelow purchased Quality Park, and erected its modern building.

Other than purchasing a large farm, Bigelow continued to live abstemiously, plowing all the company profits back into the business. In its early days Brown and Bigelow was a model facility with large areas of glass and light, landscaped grounds and recreational facilities (both indoors and out) for its employees. It is said that Bigelow was a very paternalistic employer and admired Elbert Hubbard (the business man's philosopher), and wished to accomplish what Hubbard had done in his New York plant.

Herbert Bigelow was absolutely opposed to the unionization of any industry, for in his business there was no need of a union to protect the working-man's rights. He was equally outspoken on the subject of income tax. As early as 1905 Bigelow inveighed against taxes on either income or earnings. He considered such taxes an immoral penalty on initiative. Instead, he proposed a tax on what he considered unearned increments, that is, taxes on the property of landholders who merely sit back waiting for development to increase the value of their holdings.

Inevitably, Herbert Bigelow met head-on with the U.S. government, which was having difficulty enforcing its 1913 income tax law. The law W2S being widely ignored, and in the post Teapot Dome era, in the early 1920,s, the federal government chose to prosecute a few selected businessmen from each geographic area. One of these was Herbert Bigelow, who expected to be fined, but instead was sentenced to three years in prison. He served the minimum eight months at Leavenworth penitentiary, and it is typical of the man that while he was in prison he spent his time and money ameliorating the lot of his fellow-prisoners and their families. In particular, he became interested in one Charles Ward.

For many years after Bigelow's release from Leavenworth, the company followed the policy of employing ex-convicts whom they considered worth rehabilitating. Among these was Charles Ward who rose. first to general manager, and eventually company president after Bigelow's death.

Early in 1934 Bigelow's adopted son Leon died. In August of the same year Herbert's wife Frances died after a long illness, and a month later Bigelow himself died by accidental drowning in Bass Lake, Minnesota.

He left an estate of three million dollars. One third went to his sister Helen (Mrs. Robert Porter Galloway) whose husband had joined Brown and Bigelow, coming from National Cash Register Company. One third, plus the farm, went to Charles Ward. The remaining third was divided between Leon Bigelow and Leon's son Herbert Bigelow II. (The latter died at age 40 in a car accident ) There were numerous other bequests, both large and small, to employees and relatives, including Herbert's sister Gertrude, who never married. Sole family survivor at present is Helen's son Herbert Galloway, a plastics manufacturer.

Ward's presidency of the company saw much increase of business volume because of the end of the great Depression; and the beginning of post-war prosperity. Little improvement, however, was made in the physical plant during Ward's lifetime, a period which saw great technological changes in the printing industry.

Shortly after Ward's death in 1959, Brown and Bigelow became part of a conglomerate, and today is a subsidiary of Saxon Industries. At its height, it has employed five thousand employees, and is at present undertaking long needed improvements, according to a company representative.

Material for this article was contributed by a ranking company member who volunteered that these facts could be checked in any large public library and that he himself is undertaking a definitive study of the life of Herbert H. Bigelow. Our thanks to him for details on the life of an enigmatic and purposeful man.

The above information was current in 1974 -- Have something to add please E-mail me, and I'll include everything in this section
---

GO TO
|| Home Page || What's New || Specific Bigelow's || Stories of General Interest ||
|| Search Menu || Other Bigelow Web Sites || My Roots || Query Page ||
|| Surname List || File Section || Reports ||
|| Bigelow Society || Members ||

---

Modified- 02/17/98
(c) Copyright 1998 Bigelow Society, Inc. All rights reserved.
Don Bigelow - Director
crisbig