Vol.17. No.2 FORGE: The Bigelow Society Quarterly: April 1988 Page 33
---
BAGULEYS AND BIGELOWS IN EARLY ENGLAND
A year ago, Mrs. Marjory Dakin of New York sent us, from the papers of her mother Marjory (Bigelow) Bowes of Perrysburg, OH, what was apparently meant to be an introductory chapter to Howe's 1890 Bigelow Genealogy. Interrupted by the death of its author Dr.Asa A.6 Bigelow (Reuben5 , Jabez4 , Eleazer3, Joshua2 , John1 ) of Toledo, OH, the article never reached G.B. Howe, and last year Mrs. Dakin sent Bigelow Society a photo-copy. The editor, after trying to pick out only the most relevant portions, decided that even though it duplicates some information already published, the whole is too interesting to omit one word:
---
Genealogy of Bigelow, by Asa A6. Bigelow
In the parish of Bowden, in the county of Chester, the township of Baguley. This was the seat of a family who took their name from the place. Early in the reign of Henry the Third,Richard de Baguley, whose wife was Alice daughter and heir of Ralph de Vernon, was lord of Baguley, and his son Ralph de Baguley succeeded him, who by his wife, a daughter of Hamon Massey, Lord of Dunham, Massey, had three sons viz: 1. Sir John Baguley of Baguley, Knt, whose granddaughter Ellen was heir to her brothers and carried the estates by marriage to Sir John Legh.
2nd. William de Baguley, whose estates and those he acquired by marriage with Clementia, daughter and heir of Roger de Chedale, passed with his daughter Isabella, who died in 1364, to her husband Sir Thomas Daniers.
3rd. Hamon de Baguley who inherited some of his father's estates and was Lord of Ollerton Hall, in the parish of Knutsford, Cheshire, where for several generations his descendants continued to reside.
In the reign of King Henry the Seventh, Ralph Baguley was lord of Ollerton Hall, and died in 1540, leaving two sons, Randall and Nicholas. Nicholas removed to Newton in the parish of Manchester, and there died in 1558, and was buried in the church. Randall, the elder son, was of Ollerton Hall, dying in 1556; his sons Philip and Robert divided the estates between them, and Ollerton Hall was sold to the family of Legh, who already had large possessions in the county, acquired by marriage with the Baguleys.
Philip Baguley and his brother Robert continued to reside in the parish of Knutsford, and descendants of the family were of Ollerton as late as the year 1727, when Mary Baguley gave money and lands toward the support of a school which had already received gifts from her husband Thomas Baguley who died in 1713.
Robert, the youngest son of Randall Baguley of Ollerton, was buried 4 Nov 1582, leaving sons Randall and John, both of whom removed into the county of Suffolk and settled at Wrentham, where John died in 1597, unmarried; and Randall his brother in the same year disposed of lands in Ollerton, as appears by a deed bearing date 11 Oct 39th yr Elizabeth [1597].
Randall Baguley was buried at Wrentham 7 May 1526, leaving a widow Jane who was buried ten days after, and children Francis, Phebe, Susan, Margaret, and John. Francis died at Wrentham in 1657 without issue, leaving by will a sum of money to his brother John, then in New England.
John Baguley, youngest son of Randall Baguley of Wrentham, was baptized there 16 Feb 1616/17, and following the example of a large number of the principal families of the county of Suffolk, came to New England and settled at Watertown, where he married 30 Oct 1642 Mary, daughter of John Warren of Watertown, formerly of Nayland in Suffolk and who died 19 Oct 1691, and by whom he had six sons and six daughters [omitting an unnamed son who died at birth].
His second wife whom he married 2 Oct 1694 was Sarah, daughter of Joseph Bemis of Watertown; by her he had no children. Having filled several offices of trust in Watertown, he died 14 July 1703, aged eighty-six years.
From the visitation of Cheshire
Harleian Ms. No. 1535, fol. 314,
British Museum
PEDIGREE of LEGH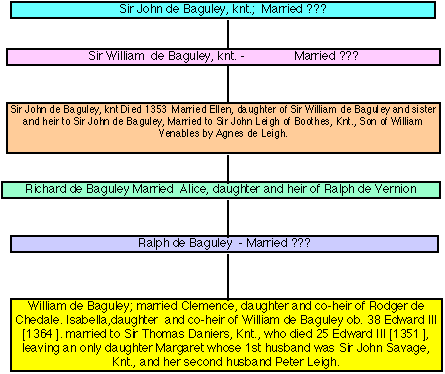 Out of an old writing at Adlington: "It is to have in mind that Thomas Leigh and old Johnes Legh of the Boothes were brethren. And the said John Legh married Ellen, daughter to SiY william Baguley, and had issue: Sir John Legh of Boothes, william Legh of Baguley, Robert Leigh of Adlington, and Peter Legh of Bletchinton."
From Harleian Ms. 6128 fol. 75
Richardus de Baggeleigh et Alicia uxor mea dedimus Ade filiae, Ade de Alaroft in libum maritagu cum Clementia fil. ure teuam d Olrebawe Teste Hamon de Massy Galfrido de Dutton, Rico d Massy milit. Robert de Massy etc. 28 Hen. III [1243]
From Harleian Ms. 2151 fol. 33
In Bowden church Cheshire in the body of the church on the South side, this monument cut in freestone for Sir william de Baguley, Knt. A warrior in mail, with surcoat. The surcoat and shield emblazoned with the arms of Baguley.
In the head of the South aisle in old glass very ancient this coat: Or, three lozenges Azur: Bagulegh
[gold shield, with 3 diamond shapes in blue and word "Baguley"] The above memorial, not now existing, with the monument, are described in a volume of church notes taken in the sixteenth and seventeenth centuries. [In 1873,Mr.Abraham O.Bigelow of Boston visited Baguley and saw the monument which had recently been discovered, after having been lost sight of for several years, and brought to Baguley Hall. --A.A. Bigelow]
In the Conqueror's time 'Gilbertus et Ranulfus et Hamo held Sunderland and Baggiley, which at the coming of the Normans were held by Edward and Suga and Eldeman and Pat. for manors, and were gentlemen, waste est tote". So the record of Doomsday. The three first-named I take to be Gilbert Venables, Baron of Kinderten; Ranulfus [Ralph], supposed to be the ancestor of the Manwarings, and Hamon Massy, Baron of Dunham Massy. Sunderland is locus cognitus within the town of Dunham Massy.
About the reign of King John (1199-1216) Hamon Massy, then Lord of Dunham Massy, and descended from the other Hamon before-named, gave unto Matthew de Bromhale, Bromhale, Duchenfield, and two parts of Baggiley, which the father of the said Matthew held of the said Hamon as his inheritance in knight's service to him and his heirs. Certain it is that this town gave name to the family of Baggileys who were seated there.
Sir william Baggiley was Lord of Baggiley 13 Edward II [1319], and John Baggiley his son made a foofment of the manor of Baggiley in Cheshire, and of his manors of Hyde and Leveshulme in Lancashire unto Sir John Legh of Boothes near Knutsford, covenanting that Sir John shall settle them on the said John Baggiley and the heirs male of his body, and for default of such, then to settle the manor of Hyde on Sir John Hyde and his heirs, and to settle the manors of Baggiley and Leveshulme upon William, John, and Geoffrey, sons of the said Sir John Legh, and to the heirs male of their bodies in order one after another, the remainder to Thomas, son of Richard Massy; then to John, son of Robert Legh, then to william, son of Piers Iegh, then to Robert, SOTI to Robert Massy of Kelshall.
The original, now in French, now remaining with Edward Legh of Baggiley, esquire, 1666, a fair seal with Sir John Legh's coat-of-arms, viz. a bend over two bars; the other seal is demolished, to wit: Baggiley's coat: three lozenges with a bear's head for the crest.
There is no date put to the deed, but Sir John Legh did settle them accordingly, with the services of all the freeholders in Baggiley, to wit: Richard son of William, Richard Hod, Robert son of william, and Hamon son of Edwin the Wise, dated Anno Domini 1353, 28 Edw. III. John Baggiley died about 1356 Sir John Legh of Boothes near Knutsford married for his second wife Isabel, daughter of Sir william Baggiley and sister and co-heir of John Baggiley of Baggiley.
The town of Baguley is situated about seven miles south of Manchester on low grounds near the banks of the Mersey. It contains 1760 acres of land arid about 500 inhabitants. Thomas william Fulton Esq is the principal land owner and lord of the manor. The manor having been part of Dunham Massy became at an early period the property of the Baguleys, a co-heiress of which brought it in marriage to Sir John Legh whose family continued proprietors till their line terminated in Edward Legh who died 1688. The manor was subsequently held by the Allen and Jackson families.
Baguley Hall exhibits a fine specimen of the domestic architecture of olden times. It is composed of oak and wicker work with bay windows. In the interior are some remains of oak work elaborately carved. This was the ancient seat of the Baguleys. Portions of the Hall have been taken down at differerent times. It is now converted into a farm house.
This article is an exact copy from the manuscript of Dr. Asa A. Bigelow (Reuben , Jabez , Eleazer , Joshua , John ) of Toledo, OH. He lived 1820-1888. The remainder of the article will be divided between the next two issues of Forge. Suggested reading for comparison: Forqe, Vol. 5, pp. 3-9; Forqe, vol. 7, pp 3-12; Forqe, vol. 12, p 1, pp 5-6; also illustration, pp 5-6 in Bigelow Family Genealoqy, Vol. I
---

GO TO
|| Home Page || What's New || Specific Bigelow's || Stories of General Interest ||
|| Search Menu || Other Bigelow Web Sites || My Roots || Query Page ||
|| Surname List || File Section || Reports ||
|| Bigelow Society || Members ||

---

Modified- 01/04/98
(c) Copyright 1998 Bigelow Society, Inc. All rights reserved.
Don Bigelow - Director
crisbig